Fire heavily damages Crescent home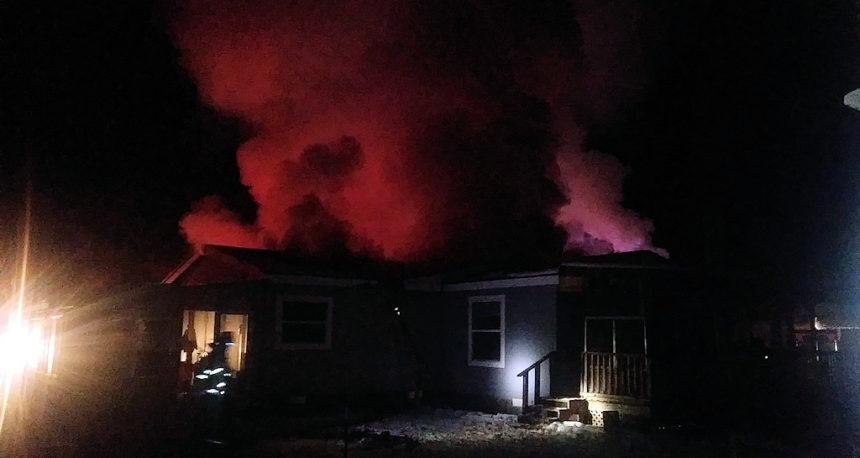 But residents, dogs escape unharmed
CRESCENT, Ore. (KTVZ) -- A fire Sunday evening heavily damaged a home in the northern Klamath County town of Crescent, but the couple who live there escaped unhurt, along with their three dogs, the fire chief said Monday.
Crescent Rural Fire District Chief Dylan Webb said crews were dispatched around 7:40 p.m. to the fire at a double-wide manufactured home on Kaehn Road.
The husband had heard some odd sounds from the attic that "almost sounded like running water," Webb said. "That's when he went outside and saw smoke" coming from the attic.
The first crews to arrive found light smoke coming from the eaves of the home and a fire at first believed to be contained to the attic, the fire chief said. However, firefighters spent hours "chasing it all over the house, throughout the night."
The fire likely started in the attic, Webb said, but the cause was undetermined.
The fire and crews' efforts to stop it left the home uninhabitable, but Webb said the couple declined American Red Cross disaster assistance, as they have an RV to stay in.
About a dozen firefighters also were able to save the family's photo albums, an antique deck, their gas wood stove, TV and a few other things as well as clothing, the fire chief said. The last crews left around 6 a.m.
Mutual-aid support was provided by Central Cascades Fire and EMS, and the Chemult Rural Fire District.
Temperatures fortunately were above freezing, but 8-10 inches of snow on the ground made for some challenges.