Deschutes Public Library kicks off centennial celebration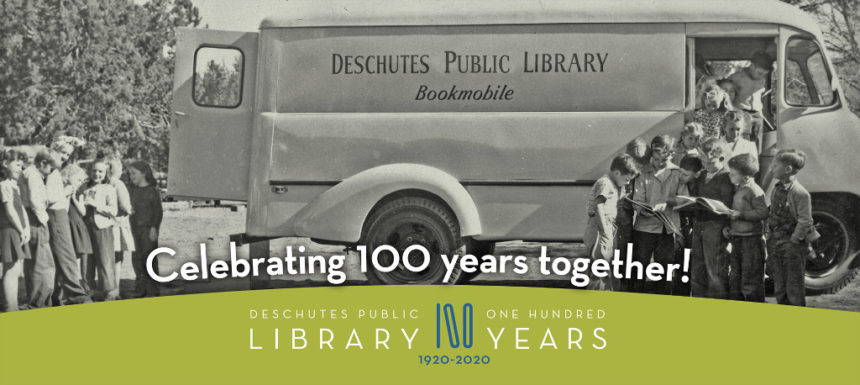 Monthly salute by decades, then a grand masquerade ball in the fall
 BEND, Ore. (KTVZ) -- In 1916, voters established Deschutes County in a break from Crook County and Prineville to better control their own destinies. Among the accomplishments of the young county was the foundation of the Deschutes County Library system in January 1920, with 3,488 books in circulation and 1,252 cardholders by the end of that first year.
Now, 100 years later, Deschutes Public Library has grown into a robust library system with six locations in Deschutes County, hundreds of thousands of items in its collection and nearly 90,000 library card holders.
"Central Oregon has grown so much in the last 100 years, and we're proud to have grown right along with it," said Library Director Todd Dunkelberg. "The Library is the center of every community in Deschutes County. From Sisters to La Pine and all cities in between, we have a lot to celebrate this year."
All of Central Oregon is invited to join the celebration in 2020 as the Library looks back on a century of community.
For the first 10 months of the year, the Library will highlight a different decade of its history during each month—the 1920s in January, the 1930s in February, the 1940s in March and so on. Look for fun displays in libraries that highlight each decade, watch for special "Deschutes by the Decade" programs honoring Library history, pick up a free 100th anniversary sticker and be sure to check out the new, limited-edition anniversary library cards.
It all culminates with a grand masquerade ball in the fall, a nod to Library's hugely popular masquerade ball of 1920.
Each decade is also highlighted on the library website (www.deschuteslibrary.org/anniversary).
"With the countywide population projected to grow to more than 240,000 residents by 2025, we are finding new and innovative ways to serve our growing community. While we reflect on the past century of growth, we have our eyes on a bright future ahead as we create dynamic libraries to serve our population for the next 100 years," said Dunkelberg.
Fun facts:
Deschutes Public Library has the third largest service population in the state of Oregon
Deschutes Public Library locations were visited 802,634 times last year
Library customers checked out more than 2,500,000 items last year
The Library is open 300+ hours every week
The Library partners with more than 180 businesses and community organizations
With more than 1,300 story times last year, the Library reached 57,000 children and families
About the Library:
The Deschutes Public Library district, located in the high desert of Central Oregon, serves more than 190,000 Deschutes County residents through libraries in Bend, La Pine, Redmond, Sisters and Sunriver. We offer technology, programs, classes, resources and services for all ages. The Library's website (www.deschuteslibrary.org) provides access to hundreds of resources, magazine articles, downloadable books and more from the comfort of home and work. Outreach services to senior centers, day care providers, and homebound residents are an integral part of the Library as well as our free and dynamic cultural programming for all ages to enrich our daily experience and encourage all residents to Know More.