Snow lets up, but still-slick roads trigger crashes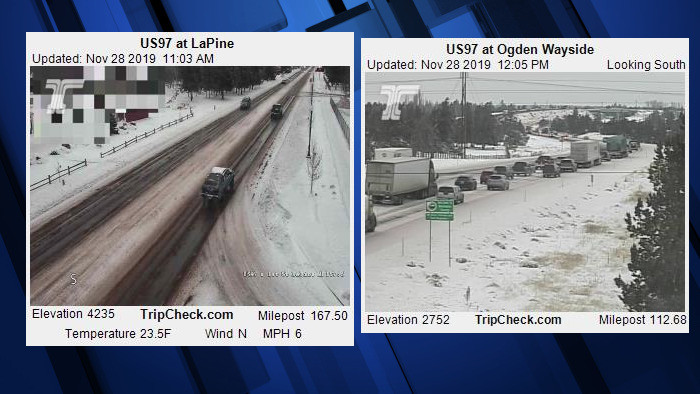 Two in Terrebonne, La Pine areas send occupants to hospital
BEND, Ore. (KTVZ) The snow finally tapered off over the High Desert on Thanksgiving Day, giving snow plow crews, sanders and all the other shovelers some holiday relief, but roads still were very slick, leading to at least two injury crashes.
One two-vehicle crash occurred shortly before 10:30 a.m. at Highway 97 and NW 10th Street in Terrebonne and the other, later crash involved a vehicle into a tree on Highway 97 near La Pine and the Southwest Transfer Station.
Fire medics transported several patients to the hospital after both crashes, though initial unconfirmed scanner reports indicated no life-threatening injuries.
There were numerous other slide-offs and less serious crashes in the region.
NewsChannel 21 Chief Meteorologist Bob Shaw said scattered snow showers and flurries would continue into Thursday night, followed by partly cloudy skies and patchy freezing fog in the morning, with cold temperatures into the single digits and teens overnight.
Get traffic updates on our TripCheck page and also visit our Webcams page.
Here's the city of Bend's Thanksgiving morning snow management update:
Snow Management Update: Morning of Nov. 28
The City of Bend continues its snow management today with plowing and sanding.
City crews are prioritizing plowing and sanding collectors and arterials.
Contractors are expected to complete the plowing of most residential streets by noon today.
Drivers should go slow and proceed with caution on steep or curving streets and at intersections on a slope. They should also navigate roundabouts with caution.
Weather forecasts for today do not predict accumulating snow. That will give City crews an opportunity to continue prioritizing collectors, arterials and problematic areas in residential neighborhoods throughout the day.
With ongoing increased traffic expected on Bend streets beginning early Friday morning, packed ice on roads and traffic delays are possible. Drivers should plan ahead to allow plenty of time to arrive at their destinations safely.
This will be the last snow management update for this event.
For more information about plowing, visit www.bendoregon.gov/winter.