Prineville PD offer details of what led to high-speed Hwy. 26 chase, crash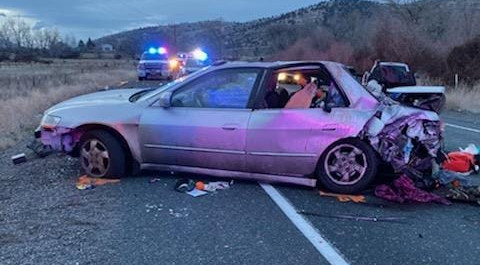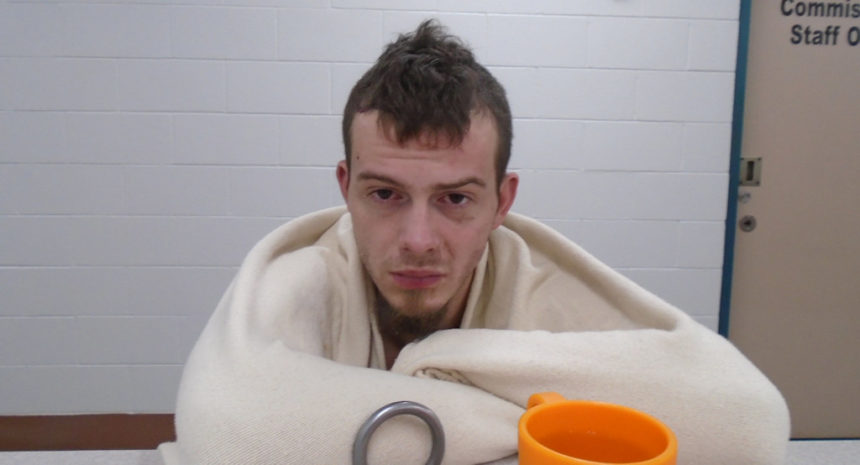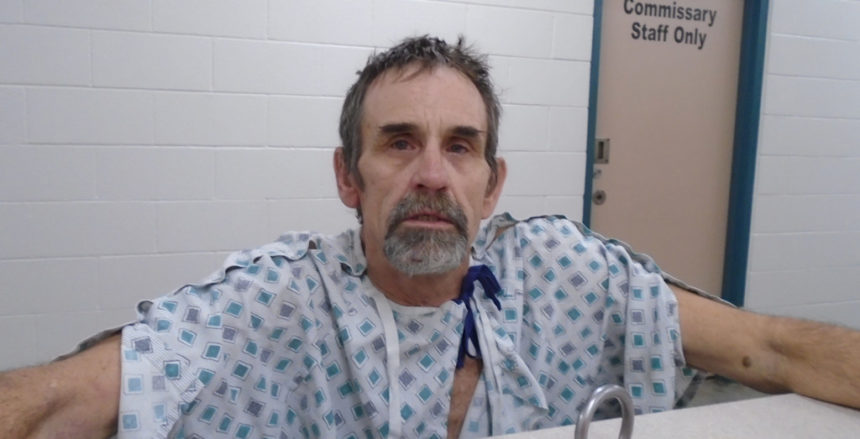 (Update: Prineville police information)
PRINEVILLE, Ore. (KTVZ) -- Prineville police provided details Monday on the events that led to a wild high-speed chase of a menacing suspect Friday on U.S. Highway 26 that topped 90 mph and ran oncoming cars off the road, ending in a crash after the car hit police spike strips.
Wheeler County sheriff's deputies were dispatched around 2:20 p.m. in an attempt to find a gray 1999 Honda Accord heading east on the highway from Prineville, according to OSP and a sheriff's office Facebook posting on Saturday.
The driver was reported to be a suspect in a menacing investigation in Prineville, the agency said.
Prineville police said the mother of fugitive Jeremy McLaughlin, 29, of Strasburg, Colorado, was driving a car from Portland to Colorado with her son, his girlfriend and her husband, all of whom had been using heroin for the previous two days.
Capt. Larry Seymour said she allegedly threatened to call police on the drug use and that McLaughlin, injecting heroin in the back seat with his girlfriend's help, brandished a knife and threatened to kill her.
The woman said she was able to get out of her car near the 600 block of Northwest Third Street, Seymour said, and McLaughlin reportedly got out of the car, trying to get her back in and yelling he was going to kill her.
The woman said her son stopped trying to get her back in the car when she started screaming for someone to call police. McLaughlin then got in the driver's seat and headed east on Third Street.
Seymour said it was reported there were several knives in the car, a handgun and possibly a homemade bomb (which OSP's bomb squad said was not there).
McLaughlin had a nationwide felony arrest warrant out of Colorado for escape, burglary and theft, Seymour said, and police were warned he would not be cooperative.
OSP received the report around 2:45 p.m. Friday that a man out of Colorado reportedly pulled a knife on a passenger in his car and made them get out, then headed east. The reporting party also said the driver had a gun.
Wheeler County sheriff's Deputy Rodney Hines responded to the Mitchell area and headed east, contacting a local resident who said he'd seen a car matching the suspect vehicle's description.
Hines went through about 15 miles without radio coverage due to terrain. Once he left the John Day River canyons west of Dayville in Grant County, Hines said he'd spotted the suspect's car around milepost 131.
Oregon State Police also were in the area and tried to make a traffic stop, to no avail. Grant County sheriff's deputies, John Day police and BLM and Forest Service law enforcement joined in the chase, which troopers said reached speeds of about 95 mph.
"The suspect vehicle traveled into oncoming traffic no less than five times, running oncoming vehicles off the roadway," the OSP report stated.
Around milepost 138, McLaughlin allegedly told the female passenger to cut the straps holding several plastic containers to the roof of the car. The containers came off the car and into the path of the pursuing police cars, nearly causing a crash, according to troopers.
Due to the risk to public safety, troopers and John Day police successfully deployed spike strips around milepost 145 to deflate the car's tires and stop the driver.
But when McLaughlin hit the spike strips, he went a short distance but lost control of the car, crashing into two pickup trucks stopped on the westbound side of the highway.
McLaughlin, who received minor injuries, was taken to Blue Mountain Hospital in John Day and then to the Grant County Jail, where he remained held Sunday on $120,000 bail, charged with DUII-drugs, reckless driving, five counts of reckless endangering, attempting to elude in a vehicle and methamphetamine and heroin possession, OSP said.
In Crook County, McLaughlin faces possible charges of menacing, second-degree attempted assault, attempted unlawful use of a weapon and felon in possession of a restricted weapon.
Passenger Robert Malloy, 57, also of Strasburg, was taken to the hospital with minor injuries and later to the jail, where he also remained held Sunday on a charge of felon in possession of a restricted weapon.
A second passenger, Nadia Runkle, 27, of Dallas, Oregon, was taken to the John Day hospital with serious injuries and later flown to St. Charles Bend, where a house supervisor did not find her listed in the patient directory on Sunday.
There were no injuries to the civilian motorists or law enforcement, Wheeler County deputies added.
The Oregon State Police Explosives Unit (bomb squad) from Salem responded to the crash scene to help search for a reported explosive device, troopers said, but none was found.
The crash and bomb squad call-out closed the highway's westbound lane for about 10 hours, with ODOT providing traffic control. Frontier Towing towed the three vehicles involved in the crash from the scene, OSP said.