Police fatally shoot man near SE Portland Starbucks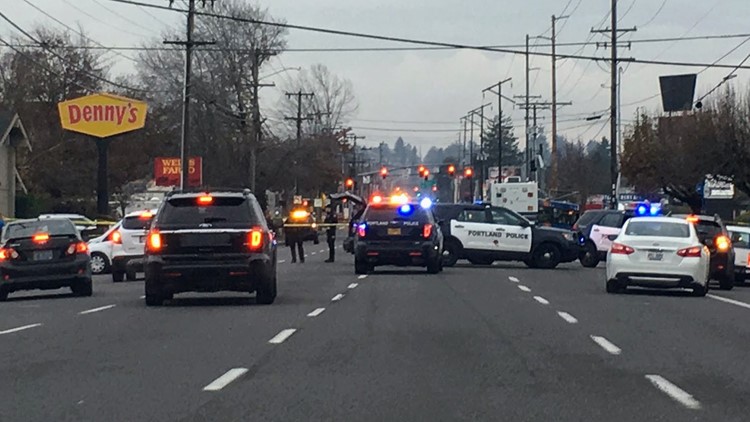 PORTLAND, Ore. (AP) - Portland police fatally shot a man Sunday afternoon outside a coffee shop on the city's southeast side after a caller reported a man with a knife.
The shooting at about 1:43 p.m. outside the Starbucks store prompted a large police response. The investigation closed several blocks in the busy area near Mall 205.
A large number of witnesses were brought aboard a TriMet bus while police investigated, The Oregonian/OregonLive reported. Another bus was nearby when the shooting occurred, and some people on it were being interviewed as witnesses.
Here's later information issued Sunday night by Portland police:
Detectives have confirmed that the original call, which was dispatched at 1:40 p.m., was a report of suspicious circumstances involving a weapon. The caller said a man had a knife in his hand and was in the street near Southeast 103rd Drive and Southeast Stark Street.
Several officers responded, including one officer with a less-lethal tool that launches foam-tipped projectiles designed to impact a subject from a distance. The officers approached the subject and a short time later, officers reported that shots had been fired.
Detectives have confirmed that less-lethal and lethal rounds were fired. The officers rendered medical assistance and called for medical response. The subject was determined to be deceased at the scene.
No other community members or officers were injured.
"Portland Police Officers responded to a dynamic situation involving an armed subject," said Chief Danielle Outlaw. "This is still early in the investigation and we will work within the process to release as much information as we can without compromising any of the investigation."
The subject involved was an adult male. His identity will be confirmed by the State Medical Examiner's Office and after next of kin are notified, will be released to the public.
The involved Bureau members' names will be released Monday, as per Bureau policy. The involved officers will remain on paid administrative leave until the completion of the Bureau's and Multnomah County District Attorney Office's investigation.