Bend's Chick-fil-A set to open on Jan. 23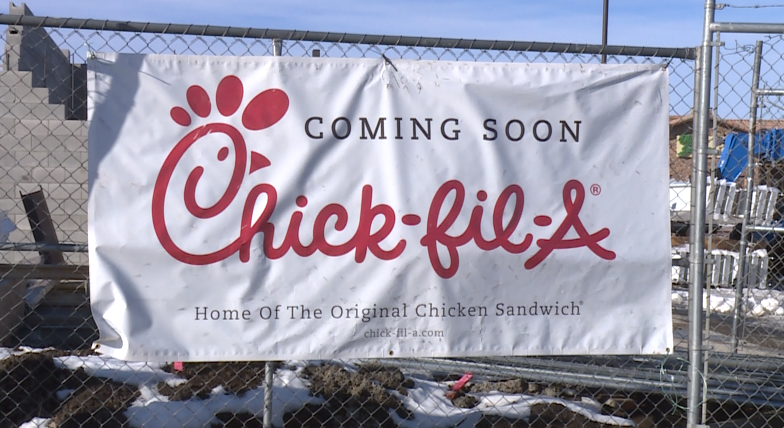 (Update: Adding company news release)
Offering 'First 100 Red Carpet Rollout' contest giveaway
BEND, Ore. (KTVZ) -- Central Oregon's first Chick-fil-A restaurant has set its opening date: Thursday, Jan. 23, close to a year after it broke ground at the Robal Road Village Shopping Center on Bend's north end.
The date is listed on the company's "future openings" page and said "operator Todd Keller is excited to serve the Bend community soon!"
It's also offering a First 100 Red Carpet Rollout giveaway to residents in several local zip codes, offering gift cards with 52 free Chick-fil-A meals, enough for a weekly visit all year.
The Georgia-based fried chicken sandwich chain opened its first Oregon location in Hillsboro in 2016, followed by several other Portland-area restaurants. Officials said last month they expected the restaurant to open in January.
A news release was issued Tuesday on the opening:
Chick-fil-A Announces Local Franchise Owner of Bend Restaurant,
Prepares for Jan. 23 Opening
Restaurant to Bring Approximately 100 Full- and Part-Time Jobs to Community
BEND, Ore. (Jan. 7, 2020) – Chick-fil-A, Inc. has selected Todd Keller as the franchise owner of the first Chick-fil-A restaurant in Bend. Chick-fil-A Hwy 97 & Robal Road, located off Hwy 97 and Robal Road, is slated to open for business on Thursday, Jan. 23. Keller will oversee day-to-day activities of the business, employing approximately 100 full- and part-time Team Members, cultivating relationships with local schools, organizations and neighboring businesses, and serving guests. Chick-fil-A Hwy 97 & Robal Road is located at 20508 Robal Ln. and will be open from 6:30 a.m. to 10 p.m., Monday through Saturday.
Locally Owned and Operated
A native of central Oregon, Todd Keller is looking forward to opening Chick-fil-A Hwy 97 & Robal Road in the place he has always called home. Keller and his family are returning to central Oregon from Vacaville, Calif., where he spent five years as the franchise owner of Chick-fil-A Vacaville Commons. Prior to joining Chick-fil-A, both Todd Keller and his wife, Kristin, served in the United States Air Force. During this time, Keller was awarded a Bronze Star and the 2013 U.S. Special Operations Command Lance P. Sijan Leadership Award.
Keller began his tenure with Chick-fil-A in 2013 as part of his MBA program at the University of Colorado, working as Training Manager at a Colorado Chick-fil-A restaurant. As he learned the ins and outs of the business and the training process for Team Members, he set his sights on a career with Chick-fil-A. In 2014, he was selected as the franchise owner of Chick-fil-A Vacaville Commons, where he has spent the last five years investing in his team and community. Though his mission has changed from his time in the Air Force, Keller's commitment to service and leadership remain the same in his newest position as local franchise owner of Bend's first Chick-fil-A restaurant.
"I've had an incredible journey with Chick-fil-A, and I'm so grateful to continue growing with the brand in the place I call home," said Keller. "We are excited to welcome everyone into our restaurant, providing them with great food and a remarkable experience."
Chick-fil-A is known for hiring, developing and retaining top talent, providing a great work environment for people of all ages and backgrounds. Each Chick-fil-A restaurant offers flexible hours, competitive pay and benefits, opportunities for leadership growth, hands-on training and mentoring by the restaurant owner, and college scholarships. In 2019, Chick-fil-A awarded $7,500 to three deserving Team Members across Oregon. As with all Chick-fil-A restaurants, Team Members are guaranteed Sundays off.
Chick-fil-A Hwy 97 & Robal Road will employ approximately 100 Team Members. Those interested in joining the restaurant team can apply by visiting https://chick-fil-a-bend.apply-now.us/.
Premium Ingredients and Fresh, Handmade Food
Nearly everything on the Chick-fil-A menu is made from scratch daily, including salads made from fresh vegetables and fruit that is hand-chopped throughout the day. The lemonade is made from three simple ingredients: lemon juice, sugar and water. Chick-fil-A Hwy 97 & Robal Road will partner with regional farmers and suppliers to source as many regionally grown ingredients as possible. All of the apples used in the restaurant's salads and fruit cups are grown in the Pacific Northwest, and the potatoes used to make hash browns and Waffle Potato Fries are sourced from the Columbia River Basin.
Chick-fil-A serves chicken with No Antibiotics Ever in all of its U.S. locations. By not allowing antibiotics of any kind, Chick-fil-A chicken meets the highest commitment for non-antibiotic use. This commitment, which is verified by the US Department of Agriculture (USDA), allows no antibiotics of any kind to be administered to the chicken within its supply, starting from the egg. For more information about the Chick-fil-A No Antibiotics Ever commitment, visit www.chick-fil-a.com/nae.

Commitment to Customer Service
With a longstanding tradition in the restaurant industry for setting the highest standards in customer service, Chick-fil-A earned a top spot in the 2018 Technomic Consumer Choice Awards for the third year in a row. The company also ranked 4th on The Harris Poll Reputation Quotient (RQ®) list of 100 most visible companies in 2018 and earned recognition as "best fast food customer service in America" according to America's Best Customer Service 2019 report by Newsweek, among other honors.
For more information about Chick-fil-A and stories about the company's food, people and customers across the country, visit chick-fil-a.com. For the latest news and updates on Chick-fil-A Hwy 97 & Robal Road, visit the Chick-fil-A Hwy 97 & Robal Road Facebook page.
About Chick-fil-A, Inc.
Atlanta-based Chick-fil-A, Inc. is a family owned and privately held restaurant company founded in 1967 by S. Truett Cathy. Devoted to serving the local communities in which its franchised restaurants operate, and known for its original chicken sandwich, Chick-fil-A serves freshly prepared food in more than 2,500 restaurants in 47 states, Washington, D.C., and Canada.
Chick-fil-A reported more than $10 billion in revenue in 2018, which marks 51 consecutive years of sales growth. A leader in customer service satisfaction, consumers voted Chick-fil-A, Inc. #4 in Harris Poll's annual corporate reputation survey, ranking the company 4th out of 100 in 2018. Chick-fil-A was also recognized for customer experience again in the 2018 Temkin Experience Ratings survey, was named "Best Franchise Brand" in 2018 by Airport Revenue News and was named one of the top 100 best places to work by Glassdoor in 2017. Continuing its founder's legacy of generosity and service, in 2019 Chick-fil-A's Remarkable Futures initiative awarded $15.3 million in scholarships to restaurant Team Members nationwide. In 2018 the company's philanthropic Chick-fil-A Foundation awarded $1.23 million to 22 not-for-profit organizations across 18 states through the True Inspiration Awards. More information on Chick-fil-A is available at www.chick-fil-a.com.