Slick roads delay, close C.O. schools; storm impacts linger statewide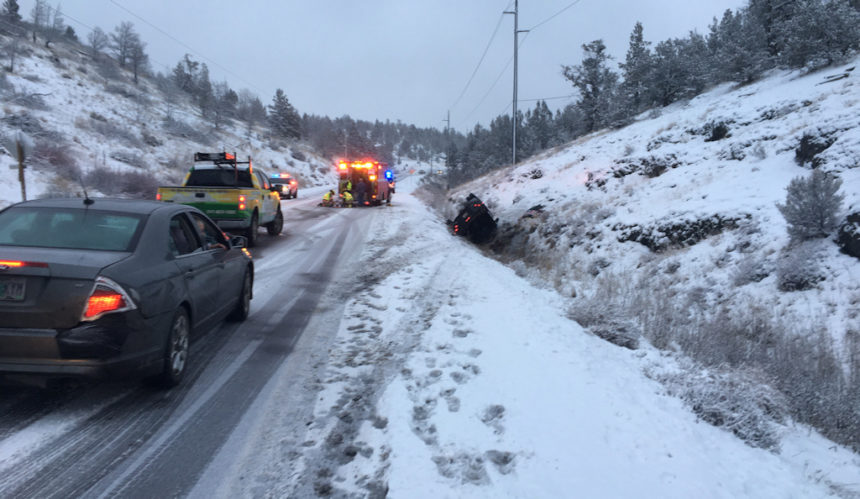 (Update: NWS issues ice storm warning for Columbia Gorge)
BEND, Ore. (KTVZ) -- Slick roads from Thursday's snowfall and overnight cold temperatures put Bend-La Pine and other schools on a two-hour delay and closed a few others as the state continues to grapple with the impacts of a stormy week.
St. Francis of Assisi School and Three Sisters Adventist were the closures reported to NewsChannel 21 Friday morning.
Along with Bend-La Pine Schools, other two-hour delays included Cascades Academy, Morning Star Christian School, Trinity Lutheran School, Samara Day School and Inspire Early Learning Center.
Numerous crashes and slide-offs were reported around Central Oregon during the Thursday evening commute, and some closed Juniper Canyon Road near Prineville.
Crook County sheriff's deputies and other agencies responded just after 4 p.m. Thursday to a reported crash on SE Juniper Canyon Road at the bottom of the grade (near the intersection with Bonnie Road) amid very slick conditions, Sgt. Bill Elliott said Friday.
As they responded, they were advised of a second crash in the area. They arrived to find a flatbed "dually" pickup on its side off the road, with three people trapped inside. They were helped in getting and were taken to St. Charles for evaluation. There were no life-threatening injuries.
The High Desert was not alone, as the Portland area and northern Willamette Valley also got snow early Friday, leading to delayed openings for just about every school district, KGW reports. Things were expected to warm up and melt off later in the day.
Meanwhile, heavy snowfall in southwest Oregon has knocked out power to thousands of customers, and Pacific Power says it could be several days until service is fully restored.
As of Friday morning, more than 10,600 customers were in the dark in Josephine County in the Grants Pass and Cave Junction areas. That was down from about 18,000 customers on Thursday, and crews were working to remove downed trees that had cut lines.
Pacific Power spokesman Tom Gaunt told the Daily Courier that residents should make plans to stay warm and safe, because the power might be out until Sunday in some cases.
ODOT announced Friday that Oregon Highway 138 East (the North Umpqua Highway) and Oregon 62 (the Crater Lake Highway) had reopened. Sections of the two southern Oregon highways had been closed since Sunday due to heavy snow and falling trees.
However, ODOT advised that motorists visiting the High Cascades this weekend should prepare for possible delays, short-term closures and winter driving conditions.
Oregon 230, a key route between the Rogue Valley and the Bend area, remains closed due to heavy snow and downed trees, officials said. Cleanup work will continue through the weekend. Workers must remove trees and debris from the snow berm before the blowers can widen the highway for travel.
"We're glad to get the area back open. We hate to close highways, but sometimes winter forces our hand," said ODOT District Manager Jerry Marmon. "Crews worked tirelessly every day, only to be pushed back by more snow, hazardous high winds and falling trees."
Highway 62 reopened Friday from Prospect through Union Creek to its junction with Oregon 230, officials said.
Another problem was brewing Friday night, this time in the Columbia River Gorge, where the National Weather Service issued an ice storm warning for up a half-inch of ice by early Saturday in the western gorge, between Multnomah Falls and Cascade Locks on the Oregon side, Stevenson on the Washington said.
Along with power outages and tree damage, forecasters warned that "travel will be very treacherous, and could be nearly impossible."
Check the latest road conditions at our ODOT TripCheck page.
In Washington state, meanwhile, hundreds continued to wait for their power to be restored after storms that brought feet of heavy snow to western Washington.
Puget Sound Energy estimates that power to hundreds in the mountain towns of Gold Bar and Skykomish could finally be back Friday. Washington Gov. Jay Inslee and others sent supplies to the area by convoy earlier this week while the state highway remained closed in that area
To the east, winter weather and multiple crashes caused the Idaho Transportation Department to close several roads Friday, including a 65-mile stretch of Interstate 84 to the Utah border.