Here's directions from St. Charles on how to sew masks, help ease shortage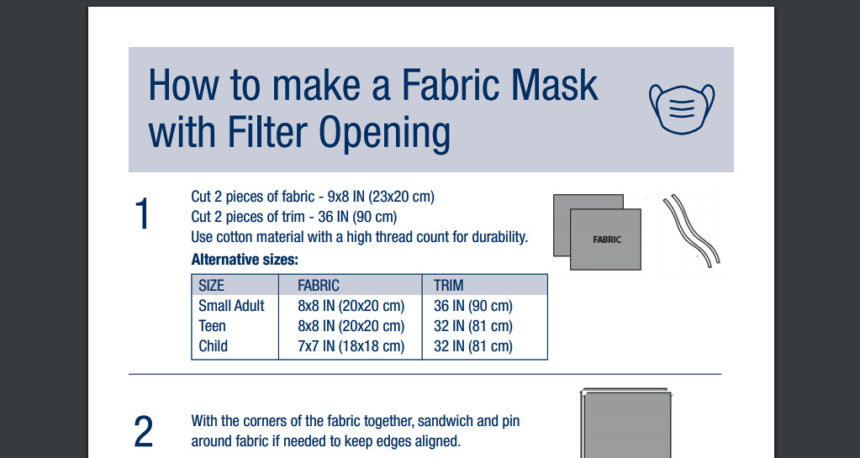 (Update: New locations, times to drop off masks)
BEND, Ore. (KTVZ) -- Amid several community and personal efforts to help fill a shortage of medical masks, St. Charles Health System has posted instructions on how to create them, what's needed and how to donate them.
In a posting to their website, the health system said:
"To all of our community members who so generously offered to donate hand-sewn masks to our caregivers, we're happy to say we are ready and have a process in place to start accepting them!
"We are in most need of adult-sized masks. These will not be used in place of personal protective equipment, but rather to prolong our supply.
"We've included some instructions which call for a slit in the top so we may insert a disposable filter. However, if you've already made a few without the slit, we can still use them to cover our existing supply of masks.
"When donating, please place them in a sealed bag and drop them at any of the donation spots throughout Central Oregon (dates, times and locations are listed below). Please do not take them to the hospital, as we have restrictions in place at the entrances for your safety.
"Thank you all for your patience and for being so readily willing to help us. We can't thank you enough," the statement concluded.
Please do not take donations to St. Charles hospitals or clinics. Starting Saturday, March 28, donations can be dropped during specified hours at the following sites:
Bend area
Albertsons North
1800 N.E. Third Street
Donations accepted during store hours
Albertsons South
61155 S. Highway 97
Donations accepted during store hours
Sisters area
St. Charles Family Care
630 N. Arrowleaf Trail
Donations accepted Monday to Friday, 8 a.m.-noon and 1 p.m.-5 p.m.
Prineville area
Wagner's Market
930 N. Main Street
Donations accepted during store hours
Redmond area
Logan's Market
900 S.W. 23rd St.
Donations accepted during store hours
Madras area
Erickson's Thriftway
561 S.W. Fourth Street
Donations accepted during store hours