Aging relative moving in? Here's how to prepare for their safety, comfort, and finances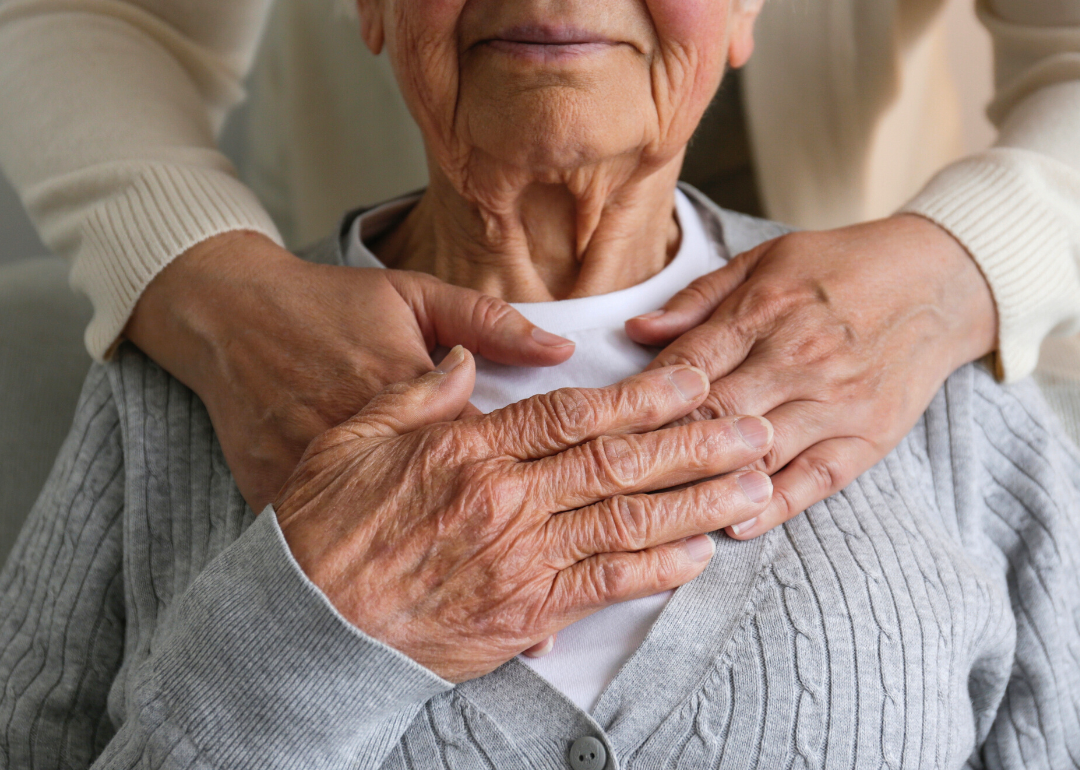 evrymmnt // Shutterstock
Aging relative moving in? Here's how to prepare for their safety, comfort, and finances
Caring hands holding aging family member.
The ranks of American at-home caregivers are growing and expected to grow further. In just over six years, baby boomers will be a generation entirely over the age of 65, according to the Census Bureau. Fully into their retirement years, this large subsection of the U.S. population is expected to lean ever more heavily on our health care system, its workforce, medical technology, and family for care. 
As of 2020, nearly 1 in 5 adults was providing unpaid care for aging family members and friends at home, according to an AARP-backed study from the National Alliance for Caregiving. According to Pew Research Center, about 54% of adults in their 40s are a part of the sandwich generation, a demographic of people who are caring for their own child while supporting an aging parent.
And as older generations of Americans age, their younger family members will increasingly be making decisions in the coming years as to when and how they'll be cared for. For many Americans, that will involve bringing a relative to stay with them at their own home in order to fill in the gaps where the health care system is inadequate or costly.
QMedic compiled this list of tips for caregivers to prepare their home for the move-in of an aging relative.
---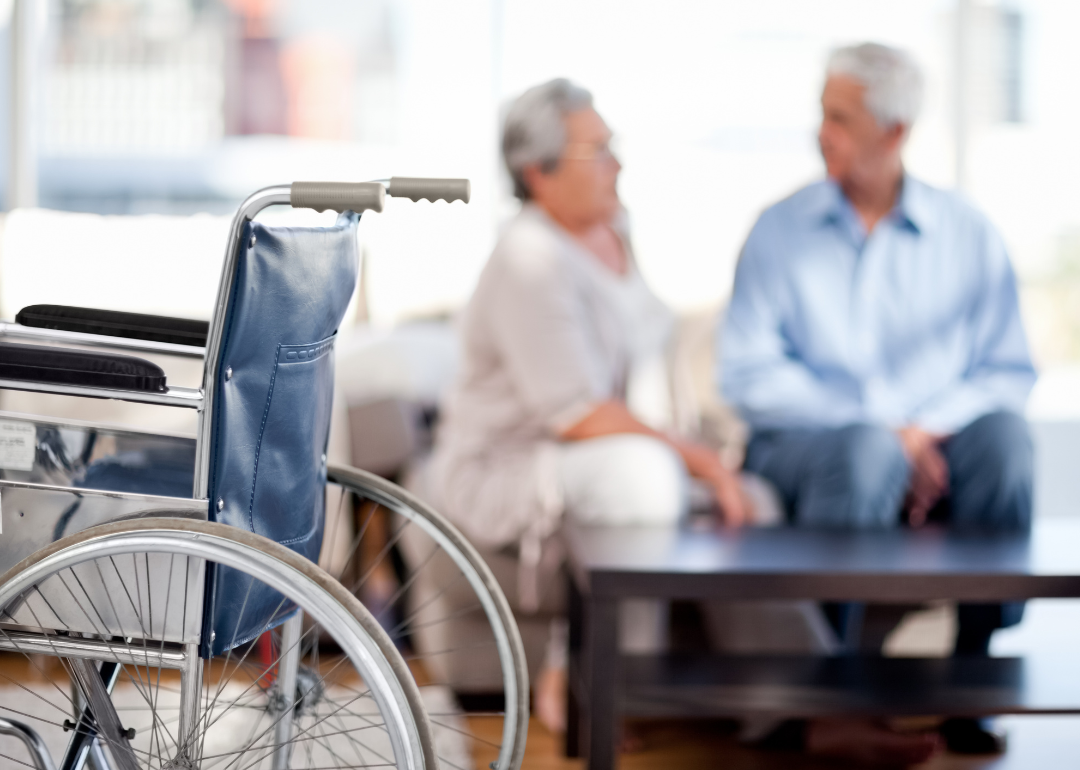 ESB Professional // Shutterstock
Decide when's the right time
Wheelchair with couple talking in background.
In some cases, knowing when to initiate at-home care for an aging relative is straightforward. When seeking hospice or taking a parent home from a significant hospital stay, a loved one's condition may require an immediate change in the level of care they're receiving. In those cases, organizations like home health companies and hospice agencies will often provide information and a helping hand in the transition into the home.
But it's not always a clear decision to move a relative closer to family members who are ready to assist. An aging relative may demand their own independence and space even in cases where it may be detrimental to their health. In other cases, family members may have differing opinions about how to progress. To say the least, it can be a tense subject for any family.
Experts at AARP and in the health care field point to several indicators to pay attention to in aging family members when trying to decide if it's time to get them more care.
If an aging relative's home space looks more cluttered than usual or if they seem to be skipping meals, it could be a sign that they are struggling to handle physical tasks around the house on their own. Other indicators include a noticeable change in a loved one's hygiene, which could signal that they're having trouble taking care of those tasks and are doing them less frequently.
Signs of cognitive decline in a family member could include difficulty completing a train of thought, trouble remembering past family events, or even just knowing what errands they ran that week. It can also be accompanied by anxiety and a short temper, according to Mayo Clinic.
---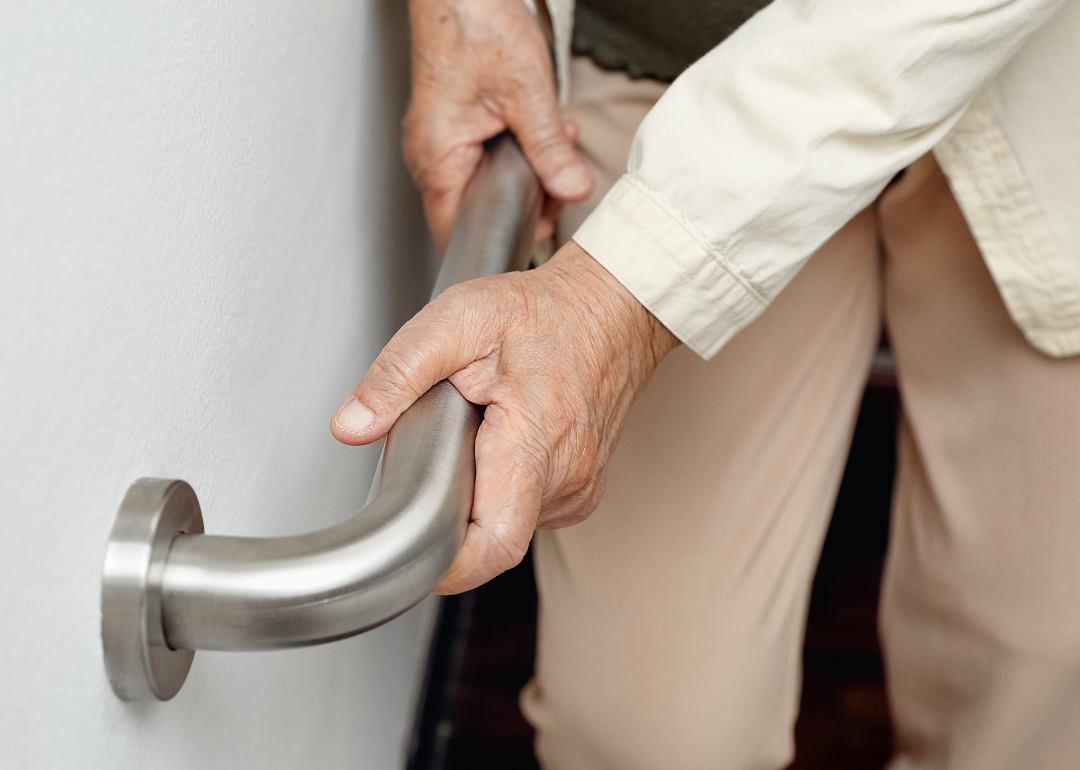 Toa55 // Shutterstock
Optimize for mobility
Mature hands holding handrail for safety.
Stairs are one of the most common challenges anyone will need to solve when bringing an aging loved one into their home. The Centers for Disease Control and Prevention estimates there are 36 million falls reported each year by Americans over the age of 65, and one in every five falls results in injury, on average.
A stair lift can cost around $3,000 or more depending on the model and its capabilities, and labor costs for installation can take that cost even higher. That being said, the investment is a sure way to reduce the chances of a costly—and painful—hospital visit if your home has stairs in it. For stairs located outside of the home, low-tech and more economically priced ramps are available.
Other mobility solutions include so-called grab bars, which can be easily positioned in front of armchairs and couches to make them easier to stand up from. Grab handles can also be installed elsewhere, like in bathrooms. AARP recommends installing additional night lights and other lighting to help seniors navigate in the dark. Homeowners may also elect to widen door frames and smooth transitions between floors in parts of the house to better accommodate walkers and wheelchairs.
Easy-access, adjustable bed frames similar to those found in hospitals and nursing homes have become popular with manufacturers as the technology has gotten more affordable. These can cost in the hundreds to the single-digit thousands but may make getting in and out of bed far safer and easier.
---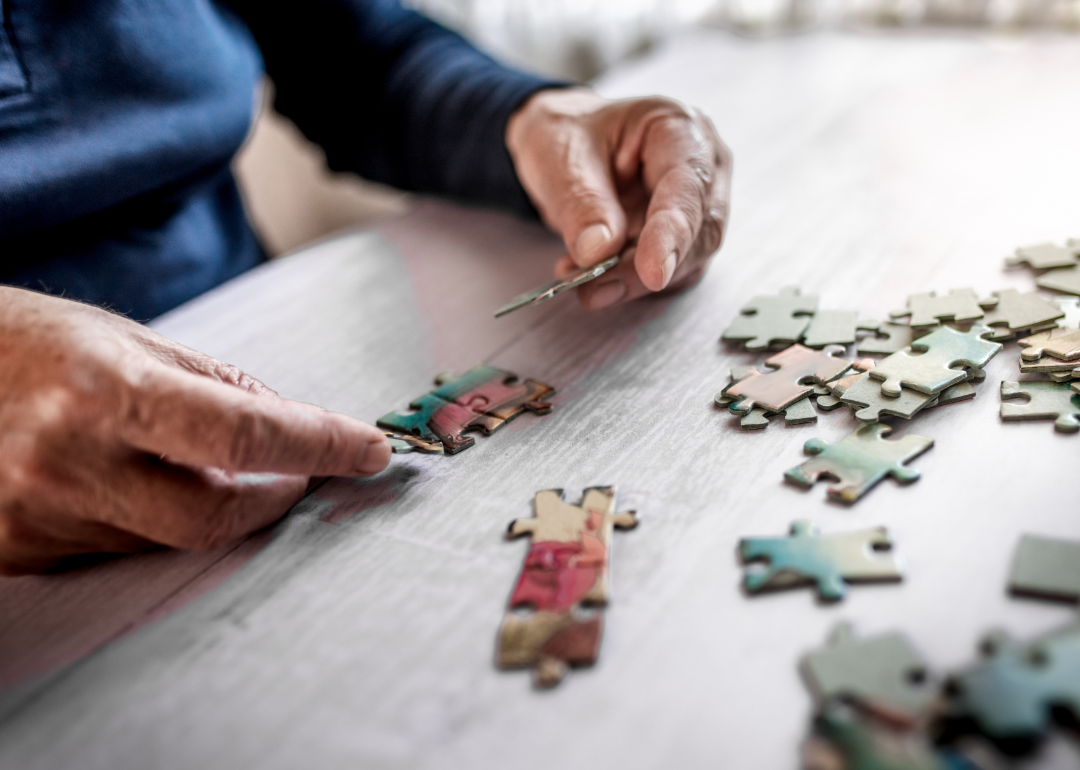 EshanaPhoto // Shutterstock
Accommodate memory loss
Senior hands holding puzzle pieces.
Memory loss occurs as we age and doesn't always have to be related to dementia or the specific disease known as Alzheimer's.
Helpful items like labels on containers and drawers—as well as large, easily accessible calendars for keeping on top of appointments—can help an older family member stay more independent. But it's important to note that a typical and healthy level of memory loss shouldn't cause disruptions in daily life, according to Mayo Clinic.
Signs that a loved one's memory may be deteriorating further than is typical include asking repeated questions, inexplicable mood swings, or regularly misplacing items around the house, according to the clinic. If any of these signs arise in a concerning way, it's best to have your loved one see a doctor for a diagnosis and further care.
When caring for someone diagnosed with Alzheimer's or dementia, a homeowner should analyze their home from the perspective of someone living with the disease. Dementia can involve loss of balance, depth perception, and strength—meaning that an aging relative may need railings or a companion for help getting around during daily activities.
Mayo Clinic recommends encouraging loved ones struggling with memory loss to stay physically and mentally active through engaging activities like playing instruments, doing puzzles, and reading.
---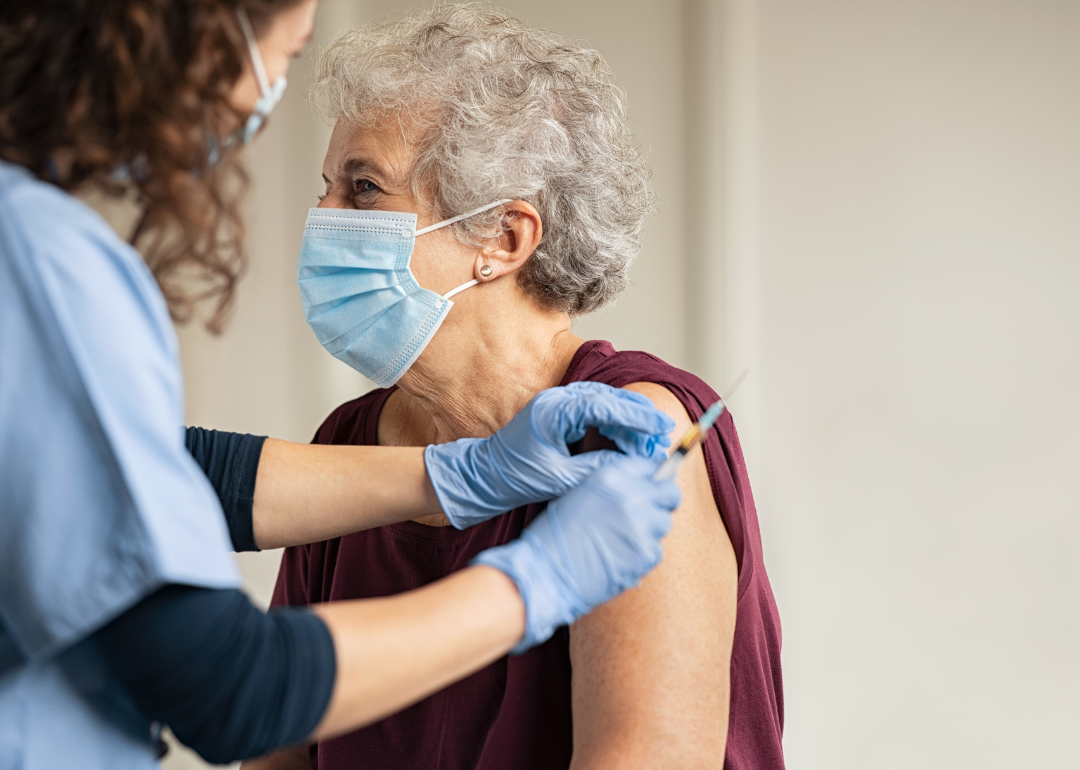 Ground Picture // Shutterstock
Prevent pathogens
Nurse vaccinating senior patient.
Most Americans have returned to pre-pandemic habits and are no longer wearing masks to protect themselves and others in public spaces. However, COVID-19 still poses a serious threat to aging adults.
Getting vaccinated and asking a doctor about recommended booster shots can help reduce the risk of severe complications from COVID-19 for older family members. In 2022, the CDC reported that 90% of deaths from COVID-19 were patients over the age of 65.
While less discussed in the media today, the seasonal flu has always posed a threat to aging Americans. Adults over 65 years old make up about 83% of all flu-related deaths, according to the latest data from the CDC. Ensuring everyone in a household is current on their flu vaccine is one way to reduce the risk of exposing aging family members living in the same house.
---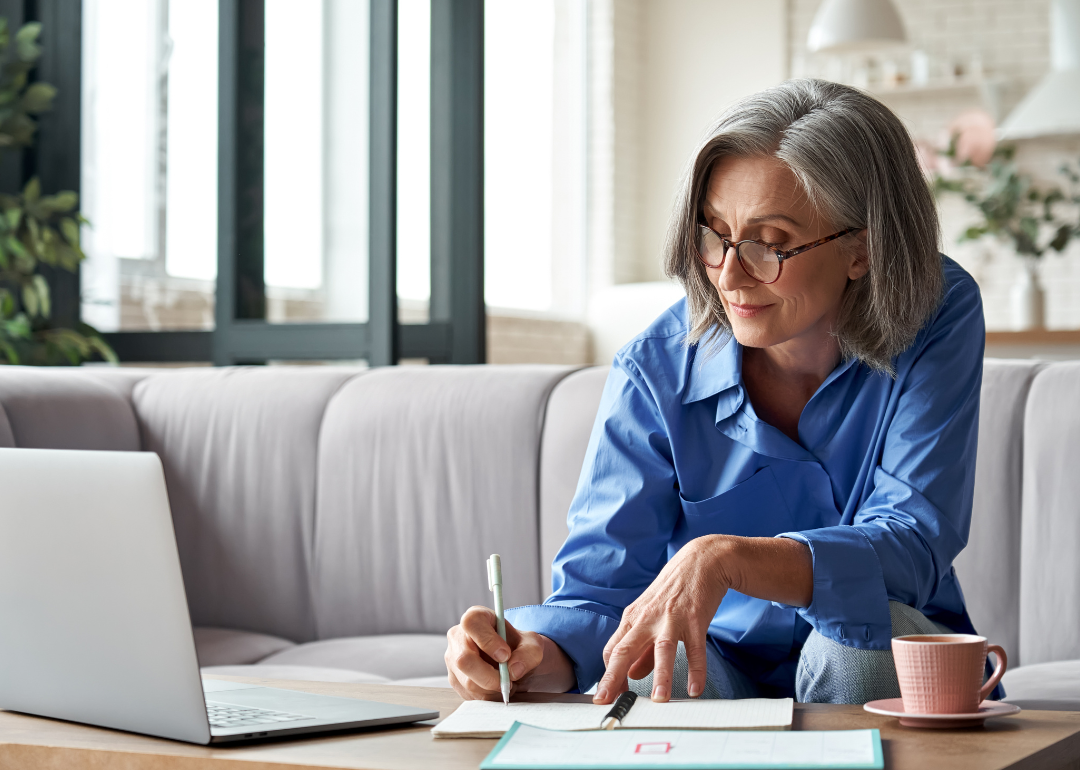 Ground Picture // Shutterstock
Know where to go for financial help
Mature woman using laptop.
Caregiving can be costly, and anyone looking to take on care of a relative can benefit from researching available resources for support.
A survey of more than 2,000 caregivers conducted by AARP in 2021 found that they spent 26% of their income, on average, to cover out-of-pocket expenses for the person they were caring for. The average out-of-pocket expense reported by those caregivers came to around $7,000 a year.
Section 1915(c) of the Social Security Act allowed states to create Home & Community-Based Services waiver programs that can help those providing at-home care to get paid for their work. Those applying have to meet certain criteria, including proof that the care they provide would be less expensive than a professional service. You can look up your state's program, if one exists, on the national Medicaid website. Nearly every state operates one of these programs, and some have several, according to the Centers for Medicare & Medicaid Services.
The federal government-run Elder Care Locator site is also useful for finding information about local legal aid and care organizations in your area. The tool allows users to search down to the city, or even the ZIP code.
Story editing by Jeff Inglis. Copy editing by Tim Bruns.
This story originally appeared on QMedic and was produced and
distributed in partnership with Stacker Studio.
---