Bend's Pilot Butte fireworks, Airshow of the Cascades appear to be a go for now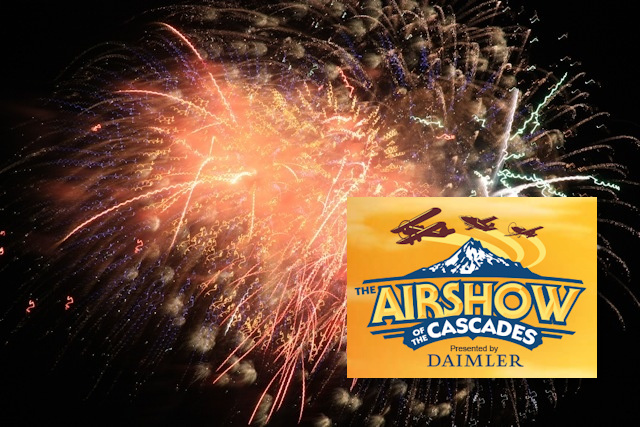 Amid many canceled traditions, so far so good for this pair of events
BEND, Ore. (KTVZ) -- While most of Oregon gets a green -- well, yellow -- light to start resuming limited business and other activities, there's word that two summer traditions -- Bend's Fourth of July fireworks from atop Pilot Butte and the Airshow of the Cascades at Madras -- are still on track.
Subaru of Bend's Matt Thomas, speaking for the sponsoring Bend New Car Dealership Association, told NewsChannel 21 Thursday that not only does it appear the fireworks are getting a thumbs-up, but they're going to be better than ever.
Thomas said the city fire marshal informed the dealers this week that "it's on," but a meeting is set for next Monday with various local, state and federal officials to firm things up.
"We have a new shooter" (vendor) for the fireworks, from Bend, Thomas said. "Wait until you see it -- it's going to be bad-ass!"
Meanwhile, the Airshow of the Cascades board and other officials confirmed recently they are continuing their planning efforts for the August 28-29 event, marking its 20th anniversary this year.
"It was a unanimous decision among 25+ members of the team to continue moving forward in hopes that the COVID-19 restrictions will either be lifted in time for the show or the show can be modified to meet what may be less limited restrictions by then," a May 6 Facebook posting said.
"Those modifications may include limiting the number of tickets sold to how the chalet tents are laid out," organizers said. "The team remains hopeful and understands the Airshow is an annual event that families, aircraft aficionados, and people who love fancy cars, good music and great food look forward to every year."
"They will continue to follow local and state government guidelines and continue their discussions and keep their loyal fans apprised," the post concluded.
Jefferson County wasn't on Gov. Kate Brown's initial Phase 1 reopening list Thursday morning, but once more details were provided to her office, they joined Deschutes and Crook counties (and close to 30 others) with approvals in hand. However, mass gatherings are still not part of the picture through summer, so the next few weeks and months should paint a clearer picture.