Snowstorm hits hard: Travel challenges, school, other cancellations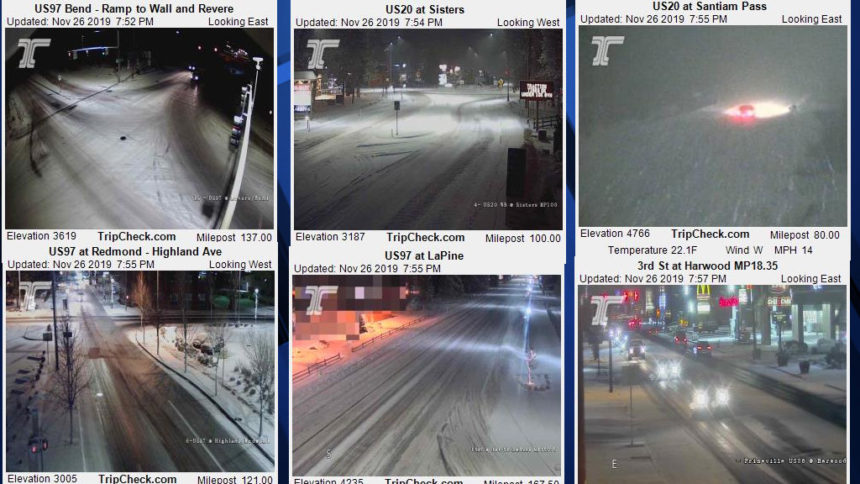 Hwy. 97 closed northbound, open south
(Update: COCC also cancels classes; ODOT update; more closures, delays)
BEND, Ore. (KTVZ) -- Thanksgiving eve dawned with more wind-blown snow falling across a wide swath of the High Desert and state Wednesday, keeping roads slick and travel difficult, closing some highways and prompting cancellation of COCC and OSU-Cascades classes.
Due to snow and road conditions, COCC said all classes are cancelled and all campuses closed. That included the four campuses in Bend, Redmond, Madras and Prineville.
OSU-Cascades said all classes and operations at the Bend campus will be closed Wednesday due to the snowstorm and travel conditions in the region.
It said essential employees should check with their direct supervisors regarding work schedules for Wednesday.
As of 7:30 a.m., ODOT reported no major crashes, but many slide-offs and minor crashes. "Motorists are urged to delay travel if possible," an advisory stated.
U.S. Highway 97 was closed early Wednesday at the Oregon-California border, and remained so around 9 a.m. It opened southbound before 10 a.m.
Due to the snowfall, NeighborImpact delayed opening its Bend and Redmond offices until 10 a.m.
Due to the weather, all Mosaic Medical clinics throughout Central Oregon are closed Wednesday. Patients with appointments that are affected will be contacted directly for rescheduling.
Inpsire Early Learning Preschool's two Bend locations were closed due to the hazardous road conditions.
Phagans' Central Oregon Beauty College also was closed.
If you have schedule or closure info to share, please email us at stories@ktvz.com.
The National Weather Service in Pendleton issued winter storm warnings that took effect at noon and extend until 4 a.m. Thursday, including one for Central Oregon that predicts 4-9 inches of snow and winds gusting to 35 mph, bringing "very difficult" travel.
"The heaviest snowfall will occur from 4 p.m. this afternoon to midnight. Snowfall rates may fall between one half to 1 inch per hour," the alert said.
Those who must travel were urged to keep an extra flashlight, food and water in vehicles, in case of an emergency.
The east slopes of the Cascades, including La Pine and Sunriver, are expecting 10-20 inches of snow before the storm moves on, and could see snowfall rates of 1-2 inches an hour.
Crashes began as the snow began to stick and pile up. A crash at the Highway 97-Murphy Road overpass shut down Murphy Road at Brookswood Boulevard at mid-afternoon.
As the evening commute approached, ODOT reported "extreme congestion" on Third Street (Business 97) northbound at Greenwood Avenue, the Highway 20 intersection, due to a two-vehicle crash and southbound slowing. Another two-vehicle crash was reported shortly before 4 p.m. on Highway 97 at Young Avenue south of Redmond.
The evening commute brought numerous crashes around the region, especially in areas with temperatures right around freezing and snow on the ground. One around 4:30 p.m. closed the northbound Bend Parkway at the Colorado Avenue interchange, as well as the fast (inside) lane southbound. The road was reopened a short time later, ODOT reported.
West of Santiam Pass, a serious-injury crash was reported at the Highway 20-22 junction shortly before 3 p.m.
As night fell, ODOT reported whiteout conditions on Highway 97 south of La Pine, as well as on state Highway 31 from La Pine to Lakeview. "Motorists are urged to avoid travel on these highways until conditions improve," an advisory just after 5 p.m. said.
The crashes continued after dark, on Highway 126, cars off Cline Falls Highway and others on Highway 97 in Jefferson County.
Over Mt. Hood, deteriorating weather prompted ODOT to close Timberline Road at Highway 26 Tuesday night, with blowing snow, fog and very low visibility. Crews were working on crashes on the highwaythrough the night.
The snowfall was timely, welcome news for skiers and snowboarders who were wondering just what they'd be able to do over the holiday weekend. Mt. Bachelor reported five inches of snow in 24 hours and a depth of 7-10 inches, with plenty more forecast before Friday's "Hopening Day" event.
Hoodoo near Santiam Pass also had over a half-foot of snow and was holding a kickoff party in Eugene on Tuesday night, expecting 18-30 inches that would allow them to open as well.
And remember, all of our weather features, including ODOT TripCheck and area Webcams, can be found on our new website under the weather section of our menu, clickable from those three horizontal lines in the upper left corner of our home page. (And feel free to use the Share tab to send us your best photos!)