Despite snow, Bend's 'I Like Pie' run/walk is still on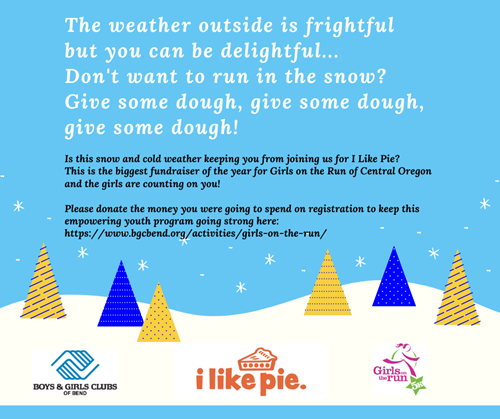 BEND, Ore. (KTVZ) -- Bend's favorite (and tastiest!) Thanksgiving Day community event is still on for Thursday at 9 a.m. in the Old Mill District.
FootZone, Boys & Girls Clubs of Bend, Cascade Relays, NeighborImpact and Girls on the Run of Central Oregon are excited to collaborate again to produce the ever-popular "I Like Pie" event, which benefits local nonprofits. Event organizers are encouraging Bendites not to miss this marvelous Turkey Day tradition.
"People in Bend look forward to this event all year," says Girls on the Run Council Director Emily Love. "It's a big part of their Thanksgiving tradition, so a snowstorm isn't likely to stop them. I think it will be even more fun with this winter wonderland we are having."
Choose from an untimed 5k community run/walk and a shorter, untimed family-fun run/walk, both of which start and finish in the Old Mill District's Center Plaza.
And to top it off, you'll earn some post-race pie and all proceeds from the run go to NeighborImpact (a 21 Cares for Kids partner) and Girls on the Run. Participants are encouraged to bring 5 lbs. of non-perishable food per person to donate. Come early to register in person at the event.
If all this snow and cold weather is making you nervous about coming out for I Like Pie, please consider donating the money you were going to spend on registration to event beneficiary, Girls on the Run of Central Oregon. Donate here to keep this empowering youth program going strong!
The mission of Girls on the Run is to inspire girls to be joyful, healthy and confident using a fun, experience-based curriculum which creatively integrates running. This is the biggest fundraiser of the year for Girls on the Run of Central Oregon and the girls are counting on you! 
NeighborImpact's food bank also counts on the food donations that come in each year at I Like Pie. If you can't make it out for the event, you can still donate food here or at the NeighborImpact Bend office at 20310 Empire Ave, #A100, Monday – Friday 8:30 am to 4:30 pm.