20 La Pine HS students are district's first AVID graduating class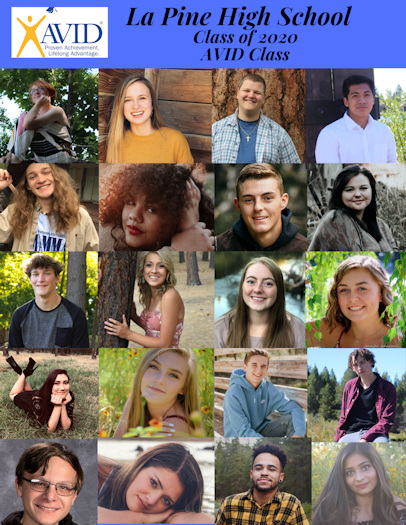 La PINE, Ore. -- Bend-La Pine Schools' Class of 2020 includes a notable group: the district's first-ever graduates from the Advancement Via Individual Determination (AVID) program. The 20 students from La Pine High School are the first to complete the program, a national college and career readiness effort designed to support underrepresented students. 
"I don't think I would have made it through high school without this program and the ability of the teacher to keep me on track," said Dylan Westbrook, a La Pine High School senior and member of the first graduating class of AVID.
Dylan, who is entering the National Guard with plans to become a journeyman lineman, says most of the graduates spent at least four years together in the program.
In AVID, students learn skills like organization, time management, resume writing, interviewing, searching for and applying for college, applying for scholarships and more.
"I am hugely proud of this group of students and their achievements," said Lindsey Spring, AVID instructor at La Pine High. "This is a special group of students who believed in this program and helped make each other stronger."
Next year, AVID will be available at La Pine Middle School, High Desert Middle School, Bend Tech Academy at Marshall High School and La Pine High School. Students must maintain a 2.0 GPA, take rigorous courses, maintain citizenship, have 90 percent attendance and complete community service projects each year.
Autumn Gerard began AVID her freshman year and says the support from her fellow students was critical to her success. "That class is like my brothers and sisters. We are there for each other," said Autumn.
This fall, she will become the first member of her family to attend college when she heads to Pacific University to study to become a physical trainer.
Autumn says the skills she learned in AVID about how to interview and apply for scholarships paid off when she recently earned the Ford Foundation Scholarship, one of just 125 students in the Oregon/Northern California region to do so.
Spring says the AVID Class of 2020 students maintained a higher GPA than the rest of the school, and 17 are going on to post-secondary education, one into the military and two into the work force. Of those attending college, 14 are first-generation college students. Other highlights from the AVID Class of 2020 include:
Participation in athletics (11 different sports represented); National Honor Society; Student Council/Leadership; theater/musicals; JROTC; Boy Scouts; Multicultural Club; Superintendent's Student Advisory Team; GSA Club; My Future, My Choice; yearbook; and forestry
15 students took AP or College Level Classes
13 students earned college credit
7 students earned Honors Diplomas
Over 50+ hours each of community service hours
More than $250,000 in scholarships (this figure continues to grow as more scholarship notices are received each day)
A Dell Scholar
A Ford Scholar
A Beat the Odds Scholar
2 students have full college paid for via academic scholarships.
Students attending: Pacific University, Northwest Christian University, Oregon State University, University of Oregon, Southern Oregon University, Oregon Institute of Technology, Lane Community College, Linn-Benton Community College, and Central Oregon Community College.