With plows and shovels, C. Oregonians take on the snow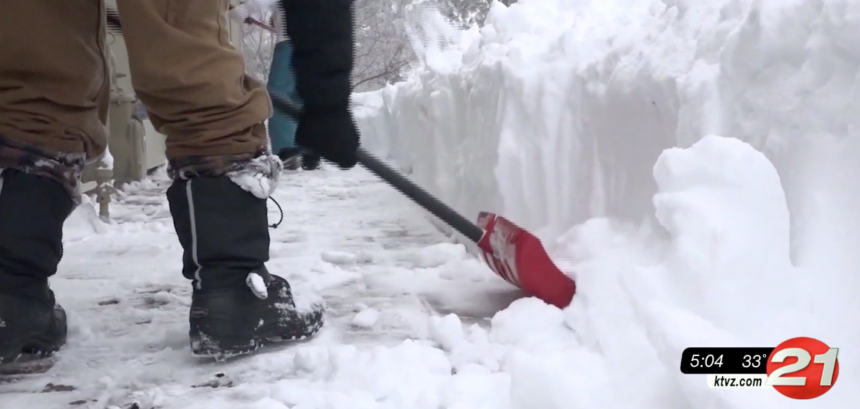 Bend streets being plowed and sanded ; some residents do it themselves
BEND, Ore. (KTVZ) -- The snow season has finally, fully arrived here in Central Oregon. Snow management efforts on Bend local and residential streets have been in full effect since 2 a.m., after city crews tackled the main arterials and collector streets.
The city said plow crews had sanded 75 percent of Bend's collectors and arterials by 8 a.m.. During each shift, the city has 16 pieces of equipment out on the streets, with another 22 provided by contractors.
Some Bend residents have plowed their own streets, driveways and alleys in an effort to clear things.
Oregon Department of Transportation Region 4 spokesman Peter Murphy said crews are working around the clock to keep the highways safe and urges drivers to drive slowly.
"We've got a lot of snow building up on highways around Central Oregon," Murphy said. "So that is something people will see, but combined with that is the winds that are blowing, so that might create some difficult visual conditions.
"That is something that people really need to be aware of," he said. "It's not really big or thick snow that is coming down, but when you combine it with wind and what we have already on the ground, you can find driving conditions pretty tough out there. You need to be able to see what you're doing and where you're going. "
NewsChannel 21 spoke Wednesday to some Bend residents about how they have been adjusting to the snow.
"Last year, it was really hard. This year it's not too bad," said Kris Blea. "We have to shovel out our driveways and the sidewalks, and it's slick. It's not dry at all."
One Bend resident said he started shoveling Tuesday night to be beat the snow, but continued Wednesday morning because of the heavy snowfall.
"We did a little bit of clearance stuff last night, but then might as well wait until its kind of done," Jared Douglas said. "But it doesn't look like it's done any time soon."
The city said crews will continue snow management operations through 10 p.m. tonight. Snow plowing will continue Thursday morning at 4 a.m.
Here's the city of Bend's afternoon snow management update:
Snow Management Update: Afternoon of Nov. 27
The City of Bend continues its snow management with 16 pieces of equipment deployed. Contractors have an additional 22 pieces of equipment plowing public residential streets.
City crews are prioritizing plowing collectors and arterials.
Contractors are prioritizing clearing public residential streets. City crews will sand problematic areas on public residential streets as staffing and resources allow. There may be areas that are icy prior to being sanded. Drivers are asked to use caution and drive slowly in these areas. Those with vehicles parked on residential streets are encouraged to move their vehicles off the street to allow the plows to clear the streets from curb to curb.
Drivers are reminded to go slow and proceed with caution on steep or curving streets and at intersections on a slope. Roundabouts should also be navigated with caution.
City crews will continue snow management operations through 10 p.m. tonight. Contractors will continue plowing public residential streets until they are all plowed.
Tomorrow, city crews will staff two shifts with plows and sanders. The first shift will run from 4 a.m. to noon. The second shift will run from noon to 8 p.m.
City crews have plowed or sanded all of Bend's collectors and arterials at least once in the past 24 hours.
For more information about plowing, visit www.bendoregon.gov/winter.