Near-misses reported as trees fall on snowy S. Oregon highways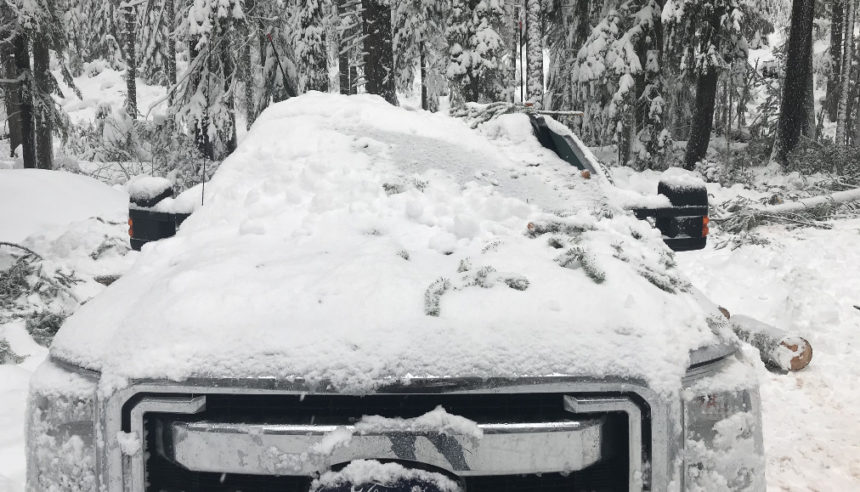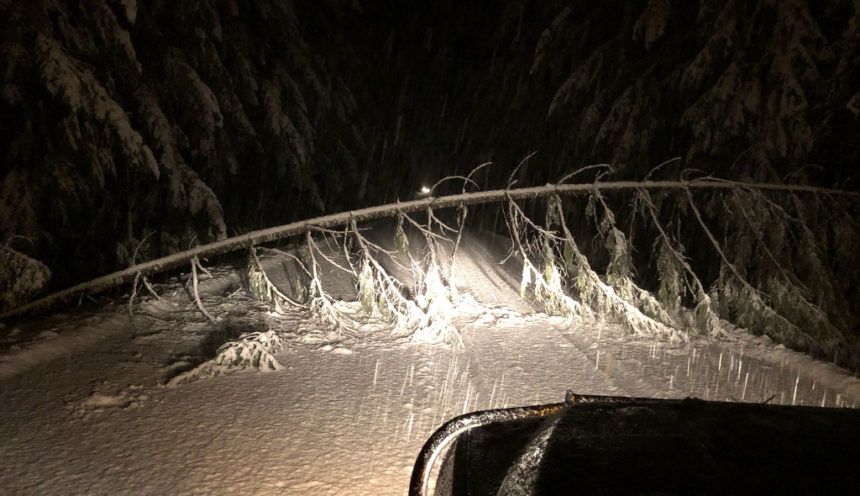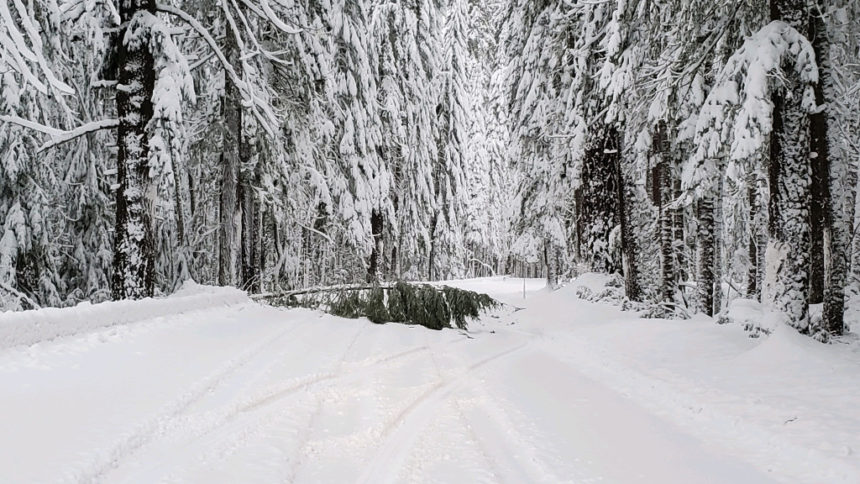 (Update: Hwy. 138 closure extended; tree falls on logger's picku)
DIAMOND LAKE, Ore. (KTVZ) — Stretches of three southern Oregon mountain highways remained closed Tuesday after hundreds of snow-laden trees fell or were leaning over them, as crews worked on cleanup for safe reopenings.
With more snow due and about 200 trees leaning dangerously over the road, Highway 230 could be closed for days, ODOT reported.
On Monday afternoon, ODOT announced that another 40-mile stretch of road, Oregon Highway 138E (the Diamond Lake Highway) also was closing from Tokatee at milepost 61 to the Highway 97 junction at milepost 101, due to falling trees and heavy snow.
Then, late Monday afternoon, ODOT also closed a 20-mile stretch of state Highway 62, the Crater Lake Highway, also due to heavy snow and falling trees. The closure is from Prospect, at milepost 45, northwest to the western boundary of Crater Lake National Park at milepost 65.
ODOT urged motorists to use alternate routes until the High Cascades-area highways could be reopened.
On Tuesday, the Oregon 138E closure was extended west, to milepost 47 at Dry Creek. ODOT said crews were evaluating the corridor and hope to shorten the closures, as conditions permit, to reestablish the link between Diamond Lake and Highway 97, and on Oregon 62 from Prospect to Union Creek.
Officials said there were several reported near-misses in the area from falling trees, including one 18 inches in diameter that fell on a logger's pickup truck Monday near Union Creek. No injuries have been reported.
ODOT crews were on scene Monday morning to begin digging out along Highway 230, where 100 trees fell Sunday and another 200 or so threatened to. But with another two feet of snow forecast in the high Cascades, it could be several days before the highway reopens between Union Creek and the Diamond Lake Junction with Oregon Highway 138.
"We've seen winter trees fall in this area before, so it's not unusual," said ODOT District Manager Jerry Marmon. "We're starting the process to get the highway open, but with reduced visibility and snow load, we may not be out there long. Safety for our crews and the public is the top priority."
Area drivers were urged to be prepared for winter driving and monitor TripCheck and weather forecasts for the latest conditions.
Follow road conditions at KTVZ.COM's ODOT TripCheck page.