Bend 7th-grader wins national horse jumping competition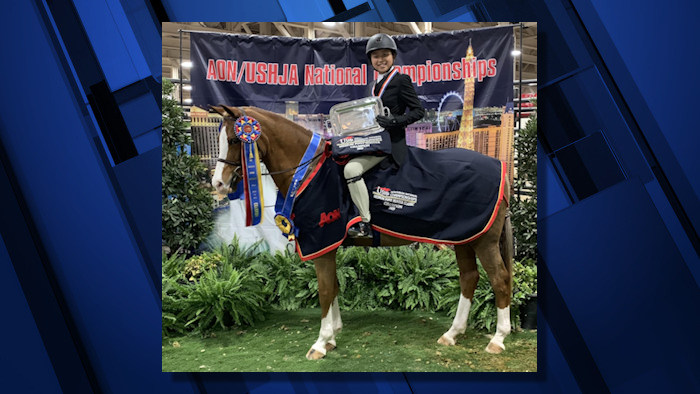 BEND, Ore. (KTVZ) -- When Ella Delgado started riding horses at age 7, she had no idea she would end up winning a national championship in Las Vegas by the time she was in middle school.
The Cascades Academy seventh-grader specializes in hunter/jumper riding, which she describes as "a modern take on fox hunting, combined with a beauty pageant for horses."
Ella and her horse, named C.E. Providence (nicknamed Bentley) , competed in the USHJA (United States Hunter Jumper Association) Medium Pony Hunter Division national championship, and ended up taking first place.
The competition took place the weekend before Thanksgiving, and Ella was finishing up her part of the competition on Sunday.
After what she described as "the best ride of her life," Ella still wasn't sure how she would place. But when she saw the blue ribbon on her pony, it was clear that she had won.
"I got on my pony again and went out into the ring," Ella said. "Bentley and I had just won this huge competition! Girls from all over were competing, and I was leading the victory gallop around the ring at a national championship show!"
Ella had little time to celebrate, as she and her family had to go to the airport right away for their flight back to Bend. "I ended up crying in the airport," she said. "It really didn't hit me until then that I had won!"
Ella rides six or seven days a week, spending hours on the four horses she rides.
"I love all four of my horses," Ella said. "They all have something interesting and unique about them."
When asked how she balances all of her riding with her school work, Ella admitted it was hard and that she often has to take homework on the road with her to competitions, but also said it was totally worth it. Ella trains with Catherine Cruger at Someday Farm, and describes her trainer as "amazing."
Ella will be heading to Palm Springs in February for her next riding competition.