La Pine man charged with graffiti spree, spitting at sheriff's deputies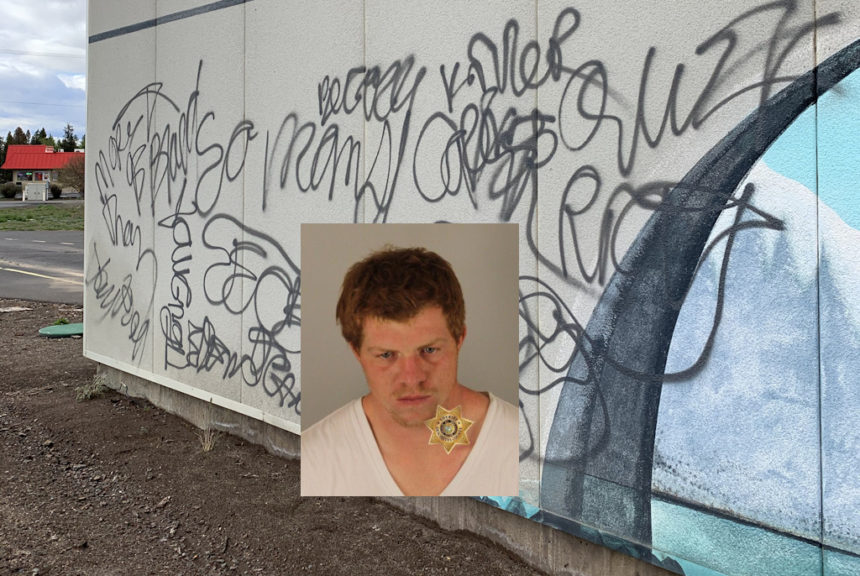 DCSO says suspect also threw trash cans at deputies, patrol cars
La PINE, Ore. (KTVZ) – A La Pine man cited for a graffiti spree targeting businesses around downtown La Pine instead was arrested and jailed after he allegedly challenged Deschutes County sheriff's deputies to a fight, then spit and threw trash cans at them and patrol cars, officials said Wednesday.
Deputies were dispatched shortly after 5 p.m. Tuesday to a report of a man painting graffiti on a downtown La Pine business, Sgt. Kent Vander Kamp said. The business manager provided a detailed description of the man, who ran after he was confronted.
Deputies arrived in seconds and found the suspect, Andrew Garrett, 28, inside a nearby gas station, trying to wash the paint from his hands and change clothing, Vander Kamp said.
The sergeant added that Garrett also had a backpack believed to contain paint and other evidence. A search warrant was obtained from a judge and deputies seized more evidence from the backpack, including methamphetamine and paint.
Deputies determined Garrett was the same person who had painted random words and scribbles on many businesses around downtown La Pine over the past week, Vander Kamp said. Garrett was identified as the suspect in six previous cases, including Taco Bell and The Outpost.
Due to COVID-19 protocols, Garrett was cited in lieu of custody on several counts of first-degree criminal mischief and criminal trespass, Vander Kamp said.
Garrett was issued the citations and told to leave the business property, but refused and challenged deputies to a fight before spitting and throwing gas station trash cans at them and patrol cars, the sergeant said. One deputy received minor injuries during the struggle with Garrett, who was uninjured.
Garrett was arrested on added crimes and was taken to the county jail in Bend, also facing charges of felony meth possession, three counts of second-degree disorderly conduct, menacing, harassment, aggravated harassment and interference with a police officer. He remained held late Wednesday on $40,000 bail.
Vander Kamp said the sheriff's office believes there may be additional victims that either have not found or reported graffiti damage. Deputies ask any other victims in downtown La Pine to report the graffiti to their office at 541-693-6911 or use the DCSO online reporting system at http://sheriff.deschutes.org.
Vander Kamp said the agency will work with victimized businesses to remove the graffiti with the sheriff's office inmate work crew graffiti removal program.