These are the top-selling used cars in the US

Canva
These are the top-selling used cars in the US
Dallas skyline
CoPilot analyzed national sales data to uncover the top 20 best selling used cars in America.
In August 2023, the top-selling used cars in the United States showcased a combination of practicality, versatility, and a strong affinity for trucks and SUVs. At the forefront of this trend are trucks, with used Ford F-150s taking the #1 spot. A used Ford F-150 in the United States currently averages $37,727. The F-150, Silverado, and 1500 trucks make the top 3, embodying capability, durability, and adaptability, making them suitable for both work-related duties and weekend adventures.
Crossovers and SUVs have etched their place as the go-to vehicles for a wide range of driving needs. The love for crossovers and SUVs is evident from the presence of the Honda CR-V, Toyota RAV4, and Chevrolet Equinox in the top ranks. These vehicles strike a balance between practicality and spaciousness, catering to the needs of families, daily commuters, and adventure seekers alike.
While the dominance of trucks and SUVs is clear, sedans remain steadfast in their popularity, offering reliable options for everyday use and long journeys. Sedans like the Toyota Camry, Honda Accord, and Toyota Corolla continue to find their place. Known for their fuel efficiency, comfortable interiors, and smooth ride, these sedans offer a timelessly reliable choice.
Beyond the predictable contenders, a hint of the future is revealed through electric vehicles (EVs) and hybrid models. This ever-growing shift reflects the global push toward sustainable transportation and reduced carbon emissions.
Let's take a look at the full list …
---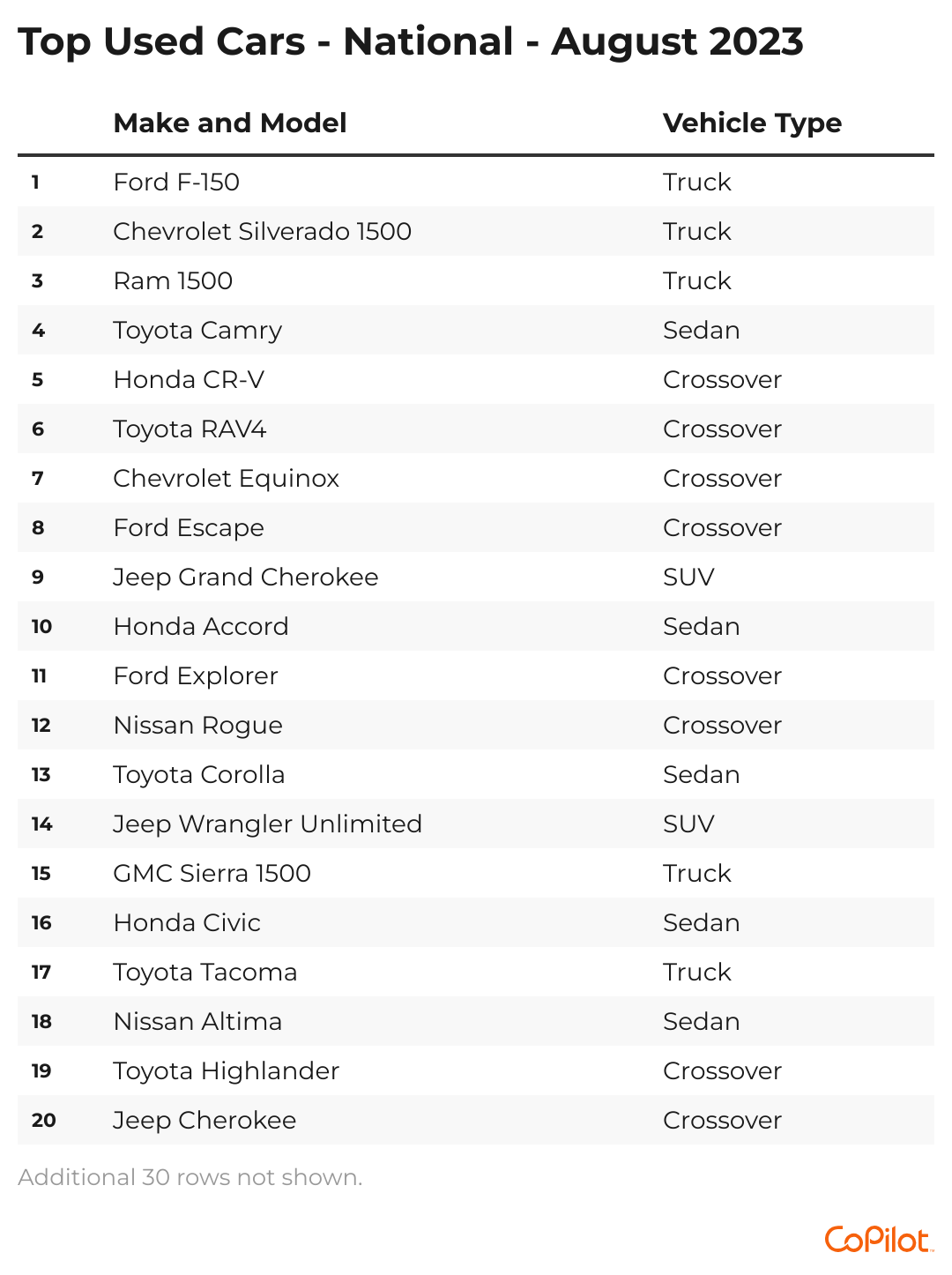 CoPilot
The 20 top-selling used cars in America
Chart showing the top 20 used cars in the US
In summation, the United States' top-selling used cars of August 2023 provide a glimpse into a market characterized by its pragmatism, flexibility, and a fondness for vehicles that cater to diverse needs. Trucks uphold their iconic status, crossovers and SUVs dominate the landscape with their adaptability, and sedans maintain their appeal. As the automotive industry continues to evolve, these trends will serve as a barometer of the evolving preferences of American drivers.
The list of top-selling used cars was created with CoPilot's proprietary PricePulse data, which monitors the online inventory of virtually every dealer in the country, every day. The vehicles sold in the area were tracked and aggregated. The data was then ranked from highest to lowest in terms of sales to create the top 50 top-selling used cars list. 
This story was produced by CoPilot and reviewed and distributed by Stacker Media.
---