Utah man jailed after 120 mph chase east of Bend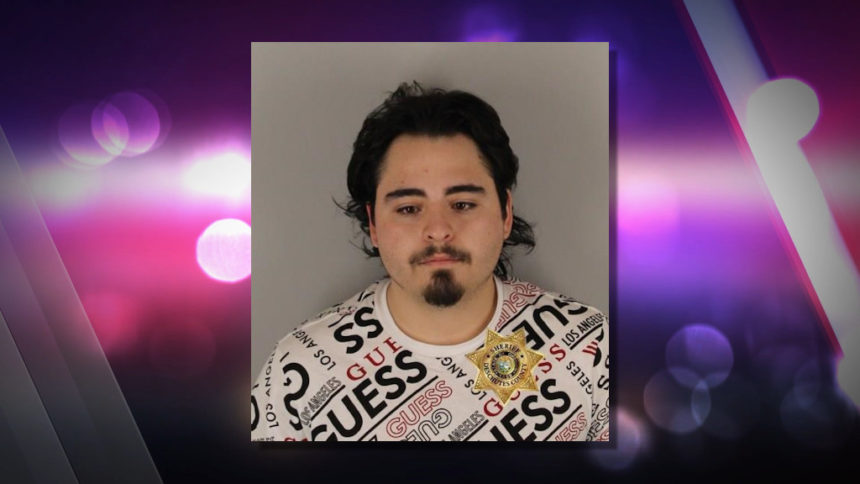 Deputies say 21-year-old hit 120 mph on Hwy. 20E, was with woman who had restraining order against him
BEND, Ore. (KTVZ) -- A pursuit late Friday night of a speeding driver on U.S. Highway 20 east of Bend ended with the use of spike strips, a police maneuver, a guns-drawn traffic stop and the arrest of a 21-year-old Utah man who had just tossed a stolen gun and methamphetamine out of the car, Deschutes County sheriff's deputies said.
The man was accompanied by a Utah woman who had a restraining order against him, they added.
Shortly after 11 p.m., the sheriff's office was notified of a police pursuit taking place on Highway 20 East in Harney County involving Hines police, assisted by Oregon State Police, Sgt. Kevin Dizney said.
A westbound white 2014 VW Passat with Utah license plates was attempting to elude officers at speeds reportedly hitting 118 mph, a chase sparked due to the driver's high speeds, Dizney said. Deputies learned pursuing officers had discontinued the chase a few minutes later, with the car still heading toward Deschutes County.
Deputies responded to milepost 42 and around 11:40 p.m. a deputy found the car, whose driver later was identified as Blair Nathaniel Titus of Salt Lake City, going about 108 mph, according to radar.
The deputy tried to stop the car, but Titus refused to yield and a new chase was on, at speeds of 115 to 120 mph for about 12 miles, before another deputy deployed spike strips to deflate the tires at a controlled rate and bring it to a stop, Dizney said.
The car began to slow to speeds of about 30 mph but kept trying to elude deputies. At that point, Dizney said, the original pursuing deputy was able to deploy the PIT (Pursuit Intervention Technique) maneuver to cause a controlled rotation of the car, causing Titus to drive off the road and come to a stop around milepost 27.
Deputies conducted a high-risk (guns drawn) traffic stop and detained the driver and a 21-year-old female passenger, also from Salt Lake City, without further incident, Dizney said.
An investigation determined there was no probable cause to arrest the passenger. Dizney said Titus was in possession of a gun stolen in Spokane, Wash., and suspected methamphetamine, both of which which Dizney said Titus tried to hide by throwing them from the car during the PIT maneuver. Deputies found them nearby.
Deputies also learned there was a valid restraining order out of Salt Lake City, seeking to protect the woman passenger from being in the presence of Titus.
Titus was booked into the county jail in Bend on charges of attempting to elude police, reckless driving, recklessly endangering, felon in possession of a stolen firearm, violation of a restraining order, giving false information to a police officer and meth possession. He was held on initial bail of $50,000.