Bend man sought in motor home arson fire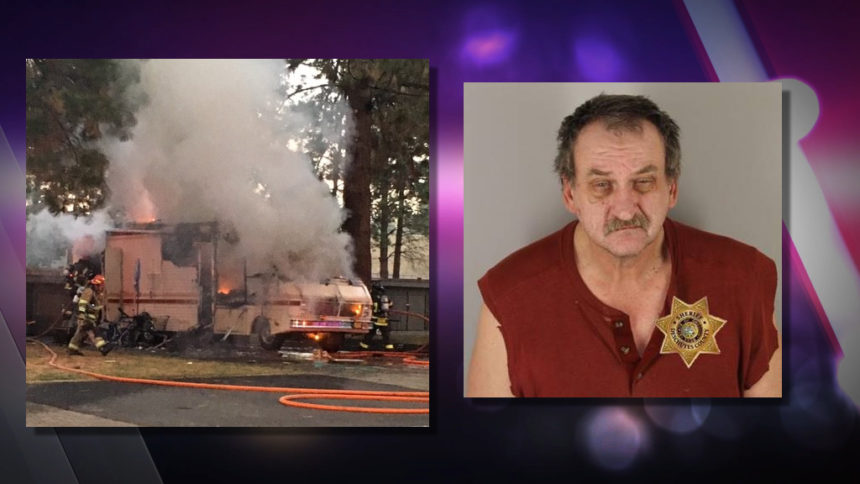 (Update: Adding comments from neighbors, Bend police)
BEND, Ore. (KTVZ) -- Bend police asked the public Sunday night to help find a man who allegedly set fire to and destroyed a motor home he owned with his estranged wife, less than a week after his release from jail.
Firefighters and police were called around 5:10 p.m. Sunday to the Crown Villa Park on Brosterhous Road on a report that a 1987 Bounder motor home was engulfed in flames. Lt. Juli McConkey said.
The lieutenant said it was reported that Bryan Dale Lindley, 59, set fire to the motor home he owned with his estranged wife. There were no injuries, McConkey said, and police have contacted his estranged wife.
After the fire allegedly was set, McConkey said, Lindley left the RV park in a silver 1999 Nissan Pathfinder, Oregon license plate 263 DTW.
Neighbors said Monday it's a quiet area, and incidents like this are unusual.
A neighbor said when the fire broke out, someone yelled that it was an explosion, which alarmed others in the area. But he said they had little interaction with Lindley.
"This guy had just got off of probation too, so it wasn't like this guy was normal," said Hayden Kobza, Crown Villa Park resident. "Nobody really knew how this person was. Nobody talks to him. He just stayed by himself, with his family."
Lindley has not been found. If you see Lindley or his car, you're asked to call the non-emergency dispatch line at 541-693-6911.
Lindley was booked into the Deschutes County Jail on Dec. 28 on a felony coercion charge and misdemeanor charges of fourth-degree assault, two counts of strangulation and menacing. He posted 10 percent of $7,000 bail and was conditionally released last Wednesday, jail officials said.
McConkey said a restraining order had been filed against Lindley, so he faces new charges.
"Arson I and violation of a restraining order, because there is an active restraining order on file," McConkey said. "They can't be in contact with him being at the house -- it is a violation, so for sure, those two charges so far."
According to the Jan. 6 indictment, Lindley is accused of domestic violence charges in an alleged assault on his estranged wife.
He was conditionally released under conditions including no contact with two alleged victims. A trial scheduled for next week was canceled, at his defense attorney's request and a March 26 hearing was set, to schedule a new trial date, court records show.