Survey shows electric vehicles face uphill climb with American consumers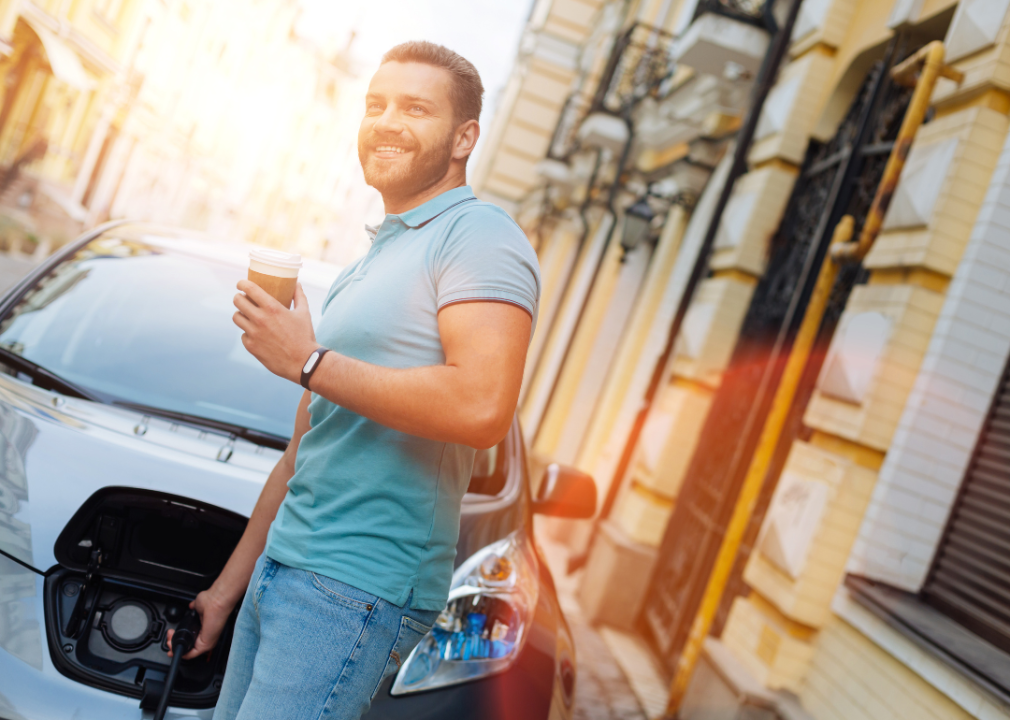 Canva
Survey shows electric vehicles face uphill climb with American consumers
Man charging EV
Despite the Tesla Model Y becoming the world's best-selling car, nearly half of Americans aren't ready to embrace electric vehicles as their next ride.
Benzinga looked at a recent poll from the Energy Policy Institute at the University of Chicago and the Associated Press-NORC Center for Public Affairs Research and found that 47% of U.S. adults believe it's unlikely that they would opt for an electric vehicle. Only 19% of respondents seem enthusiastic about the idea.
Apparently, the lack of charging options and the hefty price tags are the main culprits deterring people from going electric. A staggering 80% of the public points their fingers at the scarcity of charging infrastructure — regardless of whether they reside in cities, suburbs, or rural areas.
Jennifer Benz, deputy director of the AP-NORC Center, sums it up by saying, "While there is plenty of interest in purchasing an electric vehicle (EV), the high upfront cost of owning one and concerns about the country's charging infrastructure are barriers to more people driving them. Policies that alleviate these concerns will be a key component of building support for an EV future."
These findings coincide with the ambitious plans of the Biden administration, which aims to supercharge EV sales and steer the nation toward cleaner energy. The White House has set a goal of electrifying up to 50% of all new vehicles sold by 2030 to curb emissions and combat climate change.
To achieve this electrifying vision, the administration envisions a country adorned with at least 500,000 electric vehicle chargers by the end of the decade. It's already lined up commitments from key players like Tesla, General Motors Co., Ford Motor Co., and ChargePoint, which are revving up to construct and operate charging networks.
Despite concerns, it's clear the market only continues to pick up steam. While key players like Tesla and Ford continue to expand and invest in the EV space, there are a number of startups making waves in the green energy space as well. But not everyone is head over heels for these EV-pushing policies. The poll reveals that just 35% of Americans are on board with stricter auto emissions rules as a means to nudge automakers toward selling more EVs. Similarly, only 27% of the population supports the idea of making all new car sales electric or hybrid vehicles by 2035.
On the flip side, almost half of Americans (49%) think Uncle Sam should lend a hand by providing tax credits, cash rebates, or other financial incentives for clean energy purchases. For example, the Inflation Reduction Act has paved the way for a $7,500 tax credit for new EVs that meet certain manufacturing standards. Forty-six percent of the population favors increasing federal funding for EV infrastructure, including those ubiquitous charging stations.
It seems that climate change is also in the back of some minds, as 35% of Americans view curbing their personal carbon footprint as a major motivation for choosing an electric vehicle, while 31% see it as a minor factor.
As for climate policy overall, approximately half of Americans consider it important, but there's a distinct partisan twist to this tale. Democrats rank climate change policy as the third most crucial issue out of six, trailing behind the economy and health care. Most Republicans place climate change at the bottom of their priority list.
This story was produced by Benzinga and reviewed and distributed by Stacker Media.
---