Two Crook County schools honored for online learning efforts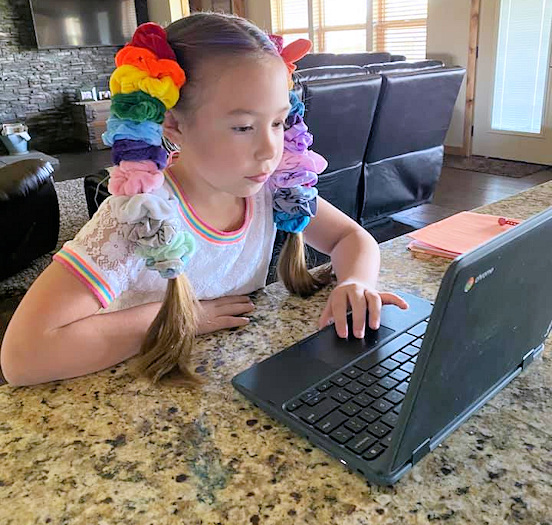 PRINEVILLE, Ore. (KTVZ) -- When Oregon public schools closed due to the COVID-19 pandemic, Crook County School District wasted no time implementing the use of Imagine Learning for all students at Barnes Butte and Crooked River elementary schools.
The Provo, Utah, based company is a national leader in developing educational technology and adaptive online curriculum for Pre-K through eighth-grade students.
The company recently announced that 97 schools from across the country earned The Imagine Nation Beacon School Award for high levels of usage by students and best practices in program implementation. Of the six schools awarded in Oregon, two are located in Prineville.
"We already had experience with Imagine Learning before the pandemic, and we were excited to keep using this incredible program and provide a smooth transition from the classroom to our Learning @ Home model," explained Superintendent Dr. Sara Johnson.
Elementary students in Prineville are currently using Imagine Language & Literacy and Imagine Math. They are interactive programs that act as a virtual classroom, where students engage in learning using iPads or Chromebooks. These programs have been incredibly helpful tools for many parents, who became educators overnight, the school district said.
"I've said from the beginning of the closure that customer service is our number one priority, so we wanted to provide a program that was easy for parents to manage and still provide a meaningful experience for students that was interactive and fun," said Dr. Johnson.
Principals Jim Bates of Barnes Butte Elementary and Kimberly Bonner of Crooked River Elementary say the award is a great honor and believe the high level of engagement has been a team effort.
"We are extremely proud of our teachers, students, and parents for their commitment to Imagine Learning and sticking with it these past two months. It speaks volumes to the spirit and determination of our community and we are so incredibly proud of this award," Bates and Bonner said in a joint statement.
To put the award into perspective, 10,518 schools in the U.S. are using Imagine Language & Literacy and another 5,572 are using Imagine Math. This puts the two Prineville schools in the top 99th percentile for use and engagement.
Every student currently has a device at home, thanks to a recent grant from Facebook to buy additional Chromebooks and iPads. District leaders recently decided to allow all students to keep their devices through the summer and continue their education using programs like Imagine Learning.